Rothiemurchus Forest, Badenoch and Strathspey (Credit: VisitScotland/Damian Shields)
An Inspiration to Re-imagine Our Past
By Virginia Crow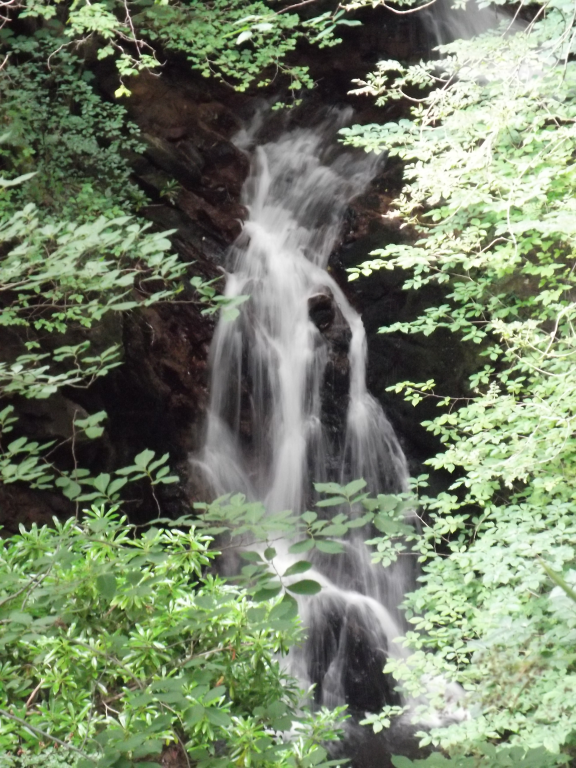 Golspie, Sutherland
Image provided by Virginia Crow
It's fair and honest to say, my life changed fundamentally at this moment.
In relatively dampened spirits, I joined my family on a trip to explore the unimaginatively named "Big Burn" (Scottish Gaelic: An t-Allt Mòr) in Golspie (Scottish Gaelic: Goillspidh). There was an event I'd been desperate, but unable, to attend. Golspie was a poor second choice. Or so I thought.
Kicking my feet along the path, I trudged down to the viewing station. I'd seen dozens of waterfalls across Scotland so I couldn't see how this one would be any different. I was surprised by the result. This waterfall was not only a waterfall, but an apparition. I forgot my wish to be elsewhere and stared at the watery figure in front of me. Was it only the peculiar angle at which I saw it? Or perhaps it was the way the filtered sunlight caught its watery form? But it looked almost human.
It's fair and honest to say, my life changed fundamentally at this moment.
That evening, I began writing an historical fantasy novel set in the aftermath of Culloden, about a man who was called to duty by the waterfall, the Spirit of Scotland: Caledon. Words flowed like the water, rippling out from my chattering keyboard as I frantically tried to write the connection I'd felt at the waterfall.
Caledon had come to life in my mind, and my writing took me back to that driving sense of identity and freedom I'd experienced earlier in the day. It was easy to write my hero meeting this spirit of Scotland, for I had already met it myself.
'At first, he felt his eyes were betraying him, and he screwed them closed before opening them once more, but the peculiar form of the waterfall was indeed beginning to take shape. Two hands with long watery fingers reached away from the rock and, rolling from side to side on wide though fragile shoulders, an ever-changing head appeared. It was queer, the manner in which this form looked so alive in its monochrome appearance, and James Og gave a slight cry as two large eye sockets appeared.'
And thus Caledon was born. Or perhaps She was only re-awakened.
DISCOVER MORE STORIES FROM SUTHERLAND
---