The Grey Cairns of Camster and the Flow Country
by Corey Anderson
Image provided by VisitScotland/ Paul Tomkins
---
The "Flow Country" in Caithness and Sutherland is one of the best examples of a near-natural landscape in the United Kingdom, before early prehistoric societies began to influence our environment. This area possesses the largest blanket bog and peatland in Europe, which currently makes an incredibly important environmental resource for climate change mitigation as a huge natural carbon sink. But also, the remote location and anaerobic waterlogged conditions here provide incredibly valuable preservation of artefacts and items from past societies and palaeoenvironmental remains which makes these peatlands an excellent resource for archaeological study.
One of the best examples of these well-preserved remains are the Grey Cairns at Camster, a pair of Neolithic tombs built more than 5000 years ago that were first excavated as far back as 1865. Nicknamed Camster Long and Camster Round, these chambered cairns are burial monuments consisting of a stone-built chamber within a mound and would have served as a community's graveyard. Camster Long is hard to miss at nearly 60 metres long and 12 metres tall, with two large internal chambers. Camster Round is significantly smaller, 18 metres wide and 4 metres tall, with a more compartmentalised chamber. Chambered cairns like these are highly regionalised in their architectural design, and the Grey Cairns of Camster, with their notable hooked shape, are perhaps the closest resemblance found in mainland Scotland to the Neolithic cairns found in Orkney.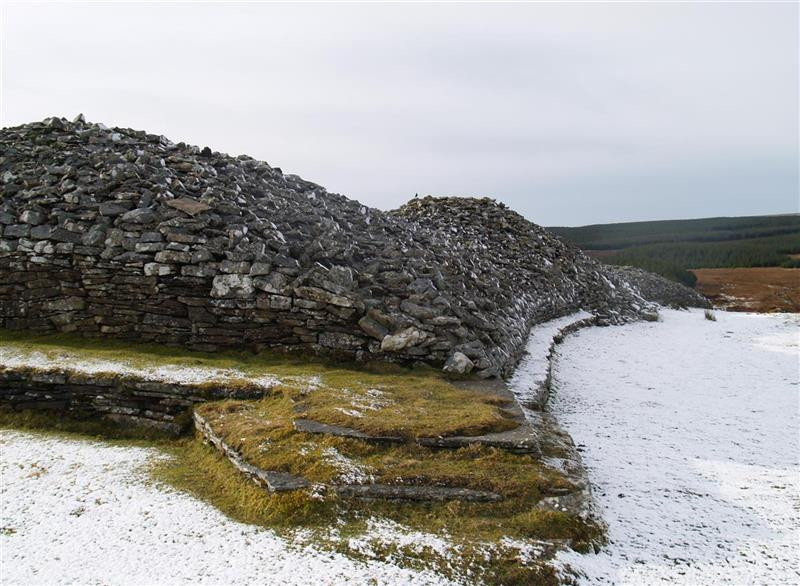 Image provided by © Highland Council Historic Environment Record
Camster Long Cairn, Camster, Caithness
---
We Want to Hear From You!
Share your stories of your favourite places in Caithness
Stories are at the heart of what we do as a project and we are always looking to learn more about what the Highlands and Islands means to people who live, work, and visit here. Caithness is an iconic part of the Highlands and Islands, with a rich natural and cultural heritage to discover. We would love to know, what are some of your favourite memories or stories related to Caithness? Tell us below, we can't wait to hear from you!
Click here to share your story through our online story portal