Kilmuir (Credit: Gordon Willoughby)
A Skye Full of Stories
DISCOVER THE SENSATIONAL STORIES OF NORTH WEST SKYE
The Highlands and Islands have been shaped by thousands of years of stories. Whether they are grounded in joy and celebration or in sorrow and tragedy, hearing the stories of our communities, their traditions and the time period they lived in can help shape us as individuals and connect us to the past. There is no better place to experience this than the 'Misty Isle' itself, the Isle of Skye, where there are centuries of tales to uncover in every step. In this mini itinerary, discover the places across North West Skye which have been at the heart of hundreds of stories.
This mini self-guided trail contains audio from a series of interviews conducted in 2022 by Smartify as part of the Spirit of the Highlands and Islands project. Listen and discover the Spirit of the Highlands and Islands through the eyes of the people who live, work and visit here.
On your journey, be responsible and respectful of local communities and wildlife and follow the Scottish Outdoor Access Code.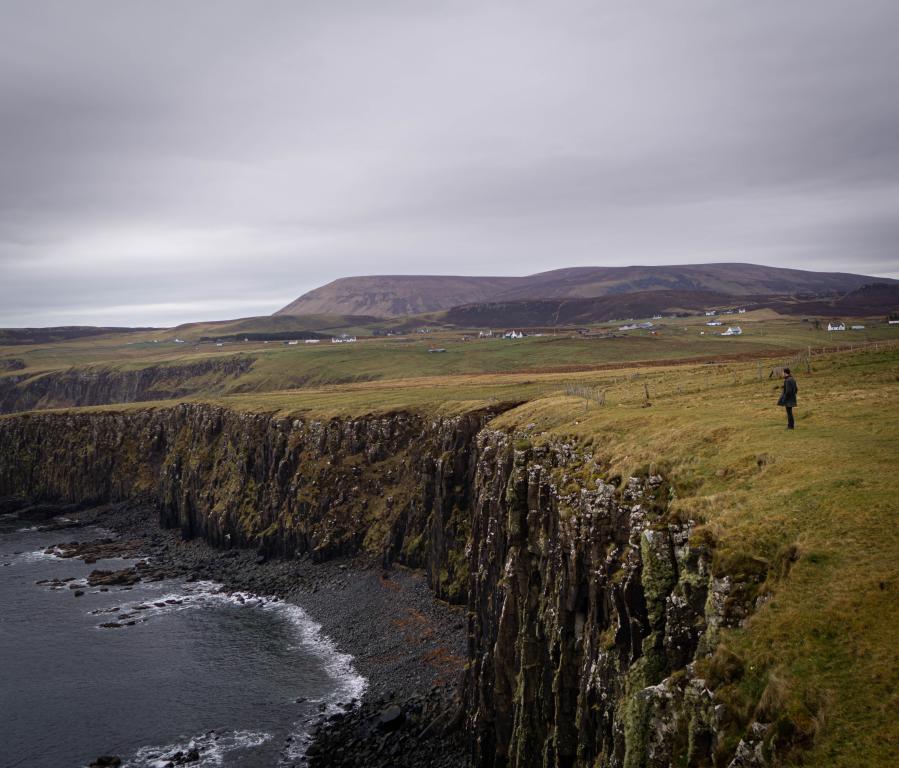 Image provided by Northport
UAMH AN ÒIR
Begin your journey with a walk to the Uamh an Òir, or the Cave of Gold, nestled in the north-west of Skye, a few miles north of Bornisketaig. The cave is an incredible sight, with perfectly formed, hexagonal basalt columns akin to the awe-inspiring Fingal's Cave of Staffa. The columns are dusted with a bright golden colour, owing to the yellow lichen which inhabit there. Its spectacular appearance has inspired countless clan legends, local folklore and music over the years including a song by Spirit: 360 artist Alan Murray. The song, Fade, is inspired by the legends of the Cave of Gold and the people and stories of nearby Kilmuir. Listen to the piece here.
Please take care on your visit – there is no defined path down to the cave, with land sloping steeply that can be dangerous when wet.
LOCH BEAG
From Uamh an Òir, make your way south down to Loch Beag. A stone's throw away from Loch Bracadale which separates the Minginish Peninsula from the Duirinish Peninsula. Together with its neighbouring lochs including Loch Harport and Loch Caroy, they form one of the largest areas of semi-enclosed inshore waters around the Skye coast. Looking out over the loch, listen as Muldin MacPhie shares fascinating tales of an eventful family history including the story behind how his grandparents met and the hardships experienced by his uncle Norman during and in the aftermath of his service in the First World War.
...his famous words were 'whoever thought of fighting in a kilt should be shot!'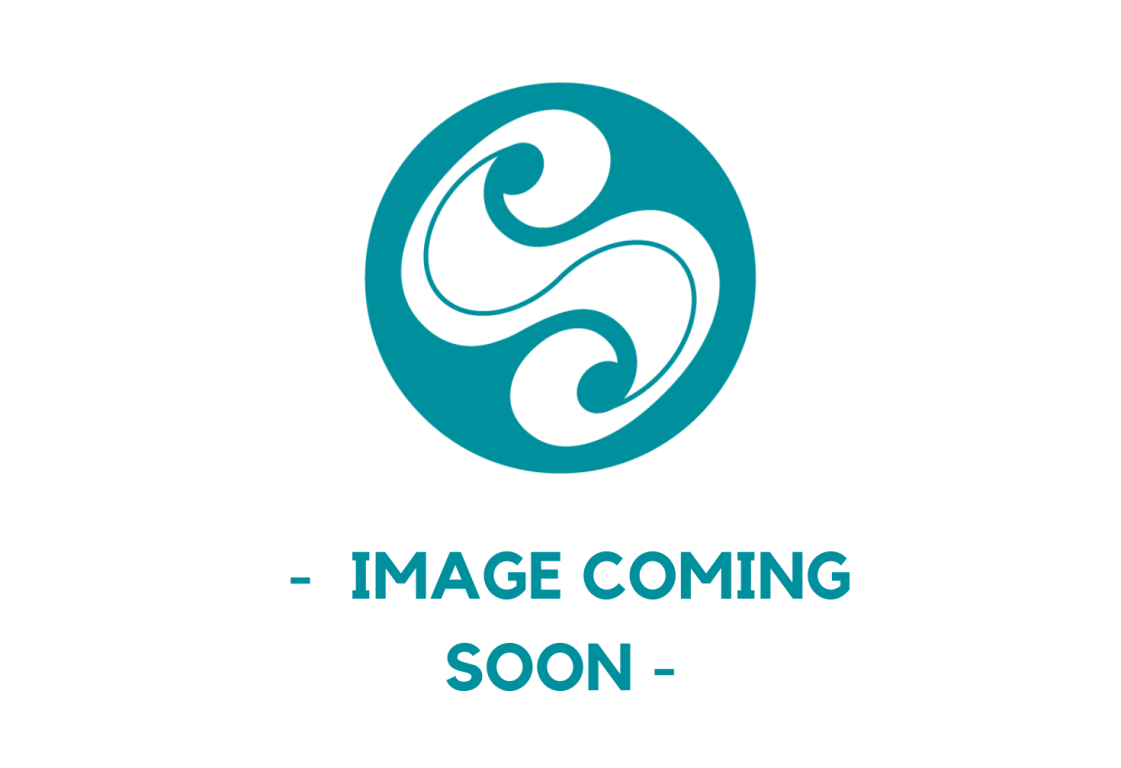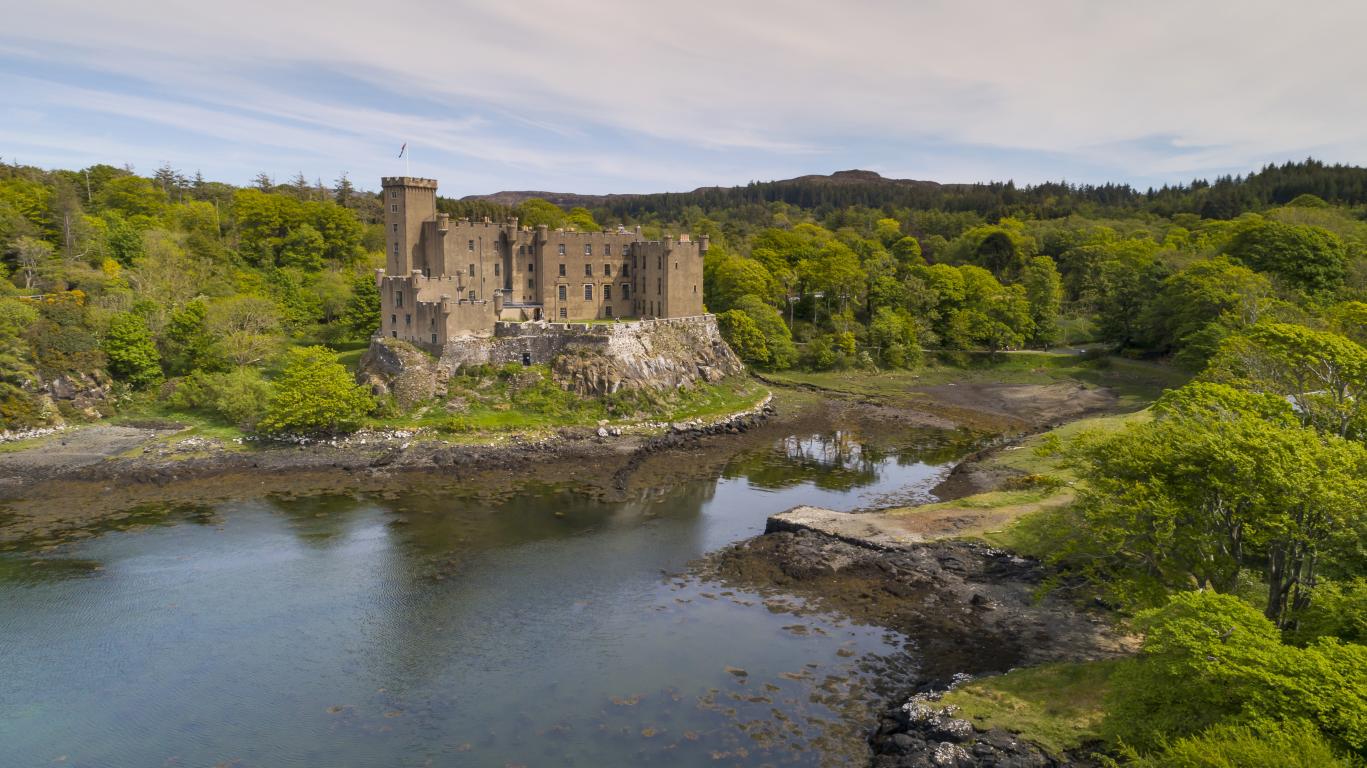 Dunvegan Castle & Gardens, Isle of Skye
Image provided by VisitScotland/Kenny Lam
DUNVEGAN
Continue on your journey north to Dunvegan – a delightful village nestled on the shores of Loch Dunvegan. The village is perhaps best known for its close association to Dunvegan Castle & Gardens, just a mile to the north of the village, which is the current seat of Clan MacLeod. While the castle houses clan heirlooms which are vessels of hundreds of years of folklore, the village has also had its fair share of people who have become local legends. Join Muldin MacPhie again as he shares some unbelievable tales of local legends.
oh, they were characters!
NEIST POINT
For your penultimate stop on this journey, travel to the most westerly point of the Isle of Skye – to the beautiful Neist Point. Neist Point is renowned for its breathtaking rock formations which bear striking similarities to the Giant's Causeway in Northern Ireland. Neist Point is also home to one of the most famous lighthouses in Scotland, overlooking the Minch to the Outer Hebrides. The lighthouse, designed by the famed Lighthouse Stevensons and built in 1909, has also borne witness to many tales in its lifetime. For the final time in this itinerary, listen to Muldin MacPhie as he recalls partaking in a rescue mission with the local coast guard from the cliffs of Neist Point.
...we had to make sure we had enough rope to get to the bottom of it...it was like 800ft!
Please take care on your visit – be careful on your way around Neist Point and keep a safe distance from the cliff face.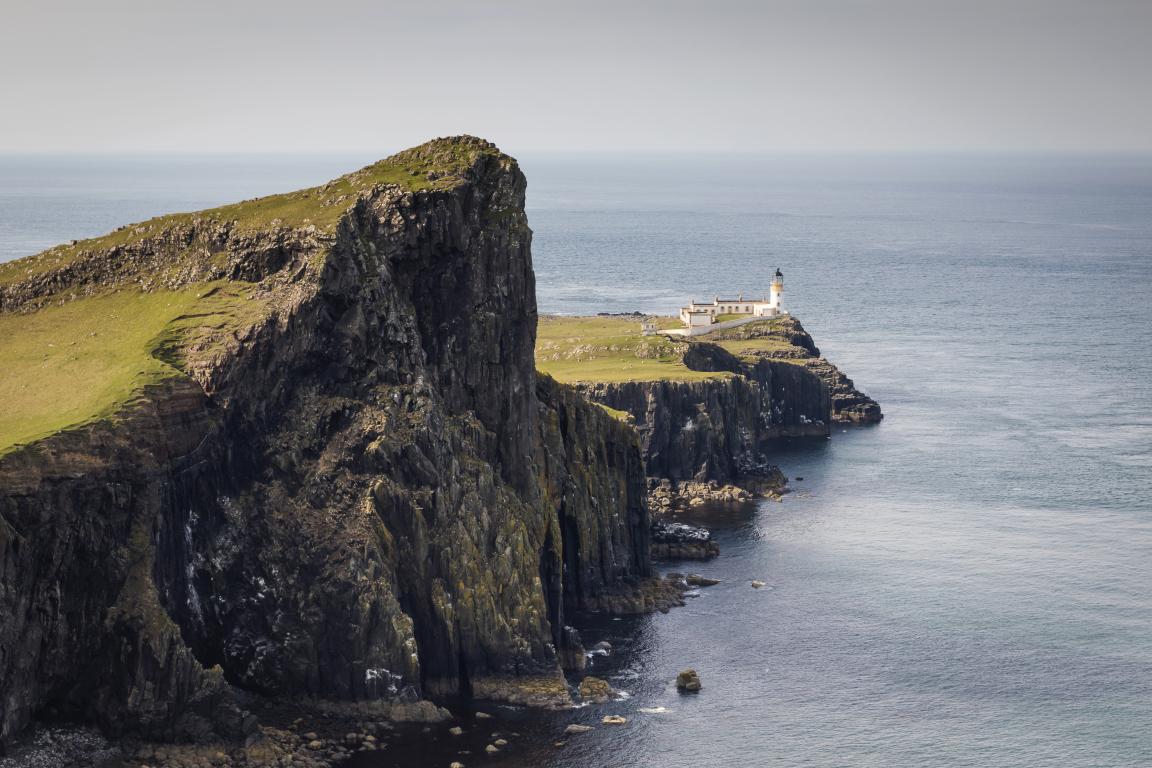 Neist Point, Skye and Lochalsh
Image provided by VisitScotland/Kenny Lam

Kilmuir
Image provided by Gordon Willoughby
KILMUIR
Conclude your journey by travelling back to Kilmuir. Music and the arts play a crucial role in oral tradition and storytelling, an art which continues to thrive on the Isle of Skye. In this recording, listen to An Tinne musicians Ingrid Henderson, Hannah Moule and Anna-Wendy Stevenson as they explain their fresh approach to live music and treat us to a delightful performance on an August night in Kilmuir for An Tinne's Gaelic Strupag.
An Tinne, or 'the Link', is a project led by SEALL - one of Scotland's leading rural performing arts promoters - and Skye Gaelic singer Anne Martin. Through the medium of music, the project reimagines a collection of Trotternish folk songs and speaks to a deep, centuries-old connection between Scotland and Australia.
...we're not stuck to sheets of music and dots...you're sharing music together as well...
There is no shortage of stories to tell on the Isle of Skye. If you are still eager to learn more about the history of the Isle after this mini-itinerary, travel north to the Skye Museum of Island Life and discover an authentic insight into 18th century island life.
Share this itinerary
Destinations on this Itinerary
Stories