Dores, South Loch Ness (Credit: Visit Inverness Loch Ness)
Isabella MacTavish
BY AN ANONYMOUS SUBMITTER
For me, dùthchas is the Spirit of the Highlands.
A dress and plaid which is believed to have been made at Ruthven (Scottish Gaelic: Ruadhainn), a farm on the former Fraser of Lovat lands not too far from Loch Ness (Scottish Gaelic: Loch Nis), in the 1780s and has been worn at family weddings ever since is, for me, an important part of the Spirit of the Highlands. Thanks to the generosity of the family, this dress is on display at the Inverness Museum and has been viewed by thousands of people since it first went on display in the early 20th century.
The dress and plaid, which are commonly referred to as Isabella MacTavish's wedding dress, have been viewed by visitors all over the world, have inspired people to make replicas and inspired me to use it as my central focus for my dissertation on Highlands and Islands Culture during 2018/19 at the University of the Highlands and Islands.
There are many stories woven into the very fabric such as the story of a tacksman's servant and her life in rural Inverness-shire in the 18th and 19th centuries, the stories of her descendants and their experiences of wearing their ancestor's dress and the story of how the dress was made and what that tells us about textile production in the late 18th century Highlands. The dress was handmade in its entirety. Many hours were spent preparing, spinning and dyeing the wool (it is believed from sheep on the farm) and growing and preparing the linen used for the lining (again grown on the farm) before either made their way to the weaver and back to be made into the dress and plaid.
The dress, for me, is a celebration of Highland women and Highland culture. It is a physical representation of something very much left out of the Highlands narrative; women and their dress. And, perhaps most importantly, it is a physical representation of the concept of dùthchas; that strong link between the people and the land. For me, dùthchas is the Spirit of the Highlands.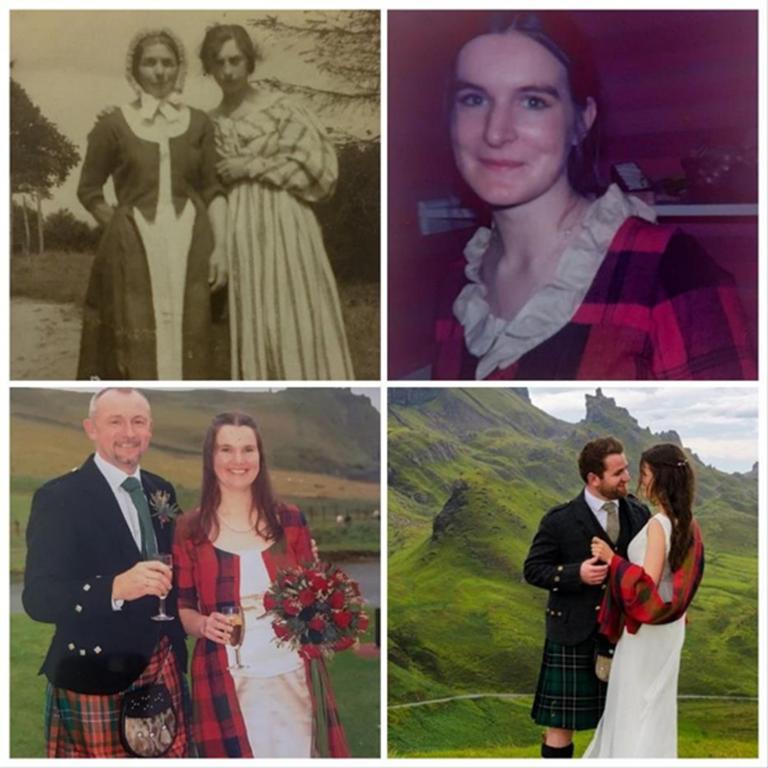 The many incarnations of the wedding dress of Isabella MacTavish as worn by her descendants,
Image provided by Story Submitter (Anonymous)
DISCOVER MORE STORIES FROM THE HIGHLANDS AND ISLANDS
---