Credit: VisitScotland/ VisitOrkney/ Colin Keldie
---
After hitch hiking to Orkney from Kent with my brother Malcolm in 1963, my life's aspirations changed. I was fifteen, he 17. Both of us in London colleges of Art. We were searching for a future place to live and develop.  It took me 11 years, several careers, numerous trips to Orkney and a dose of determination to up-sticks. It was Orkney's colours, space, freedom, magnetism and inspiration that magnetised me
The sheer compulsion in 1974 to sell everything and move to Orkney from Kent the very next year paid off! I rented an old hen battery house on Fursbreck Farm, Grimeston, Harray. Within a week the locals were saying, 'You must go and visit The Harray Potter - He's just magic!'. In that week I began to supply Tormiston Mill. The following year other venues in Orkney.
Summer 1978 saw me buy the Old Harray School. I installed my kilns there and bought a 40 cubic foot monster kiln. She still works and fires well, even after nearly 45 years. Through the decades numerous potters have learned their skills here. Now it is the turn of the three apprentices, Thomas, Duncan and Nicky, my son. It is splendid to know that the pottery will continue. It is in the hands of a fine young team.
My style continues, but I'm delighted to see the younger ones develop their own ways too. New effects, new shapes, new ideas and influences make Harray Potter at Fursbreck a vibrant school, which constantly looks to the future. I supplied The British Museum's gift shop for many years with my Roman Black and supplying local restaurants, B&Bs and Self Catering establishments is an honour. It also shows our works off so folk travel to see us at the Pottery where we are re-creating ancient shapes and designs. This has influenced my pottery since School days. In the Secondary Modern Pottery department I made Roman, Greek, Neolithic and Medieval styled works.
Come to Harray Potters, explore our show rooms and see work in progress in all stages. Enjoy the scent of wet clay and feel the influences of the past in our Orkney. You are SO WELCOME!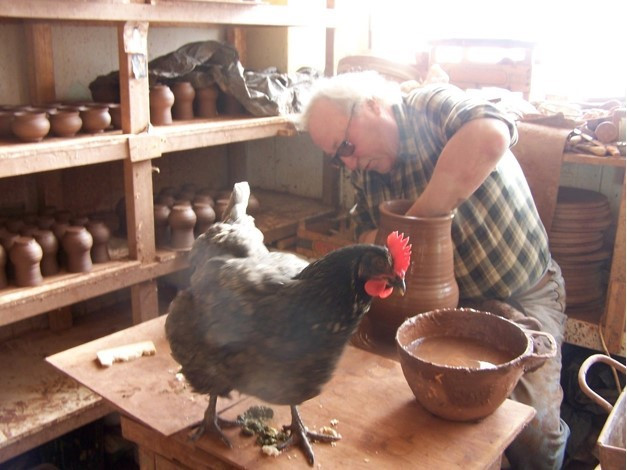 The Harray Potter at work in his studio.
---
We Want to Hear From You!
Share your stories and memories of the Orkney Isles
Stories are at the heart of what we do as a project and we are always looking to learn more about what the Highlands and Islands means to people who live, work, and visit here. The Orkney Isles are an iconic part of the Highlands and Islands, with a rich natural and cultural heritage to discover. We would love to know, what are some of your favourite memories or stories related to the Orkney Isles? Tell us below, we can't wait to hear from you!
Click here to share your story through our online story portal