Flipping Incredible
by Tony Harmsworth
---
How can you lose an eight foot (2.5m) long flipper?
Well we did.
In 1979, after spending some time in the States, it was time to return to Drumnadrochit with material for my Loch Ness Exhibition. I was to fly back from Boston to Prestwick and Dr. Rines, President of the Academy of Applied Science, had kindly given me a model of a flipper which had been made by students at MIT. It had been constructed based upon the flipper picture which is now known to have been retouched.
Ronnie Bremner and I, both in the kilt, piled into a taxi with this huge fibre glass flipper poking out of one window and headed through the madcap Boston traffic across to the airport. The check-in gate whisked the flipper away to the cargo hold. As I had arranged for a horde of press to meet us at Prestwick I had requested that it be one of the first items unloaded on arrival.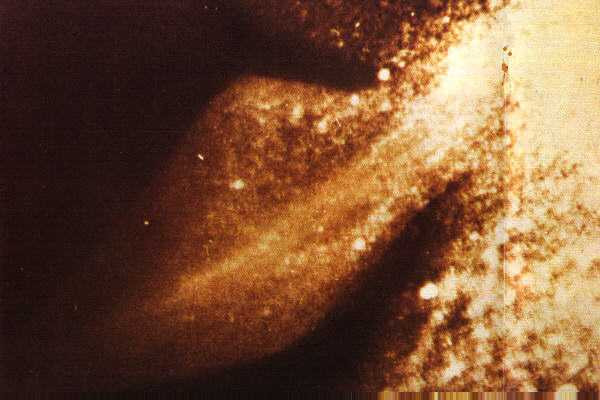 Image provided by Tony Harmsworth
Retouched image of a flipper, from which the construction of a fibre glass model was based
What a flight! This was by far the worst flight I have ever experienced in my life. As we were approaching Glasgow the captain advised us that there were storm force winds at Prestwick and we were being diverted to Copenhagen. We later discovered that the roof of Prestwick airport was blown off by this storm. One of the worst on record.
As the plane approached Copenhagen it was tossed about like a feather and even the wings of the Jumbo were flapping. We were kept on the ground in the plane for some time. Eventually we were told that we would be split into two smaller planes going into Glasgow Airport which had shorter runways. Ronnie and I were in the second plane operated by SAS, but by this time we had no idea which plane the flipper was on and, in any case, the press would have been long gone from Prestwick.
The flipper never did show up and I often wonder if it is still sitting somewhere in a warehouse waiting to be claimed.
[Extracted from Loch Ness, Nessie and Me, by Tony Harmsworth]
---
We Want to Hear From You!
Share your memories of the Highlands and Islands
Stories are at the heart of what we do as a project and we are always looking to learn more about what the Highlands and Islands means to people who live, work, and visit here. Do you have a favourite memory or anecdote that you feel represents the Spirit of the Highlands and Islands? Share it with us below - we can't wait to hear from you!
Click here to share your story through our online story portal