Invermoriston Bridge and Falls, Inverness (Credit: VisitScotland/Paul Tomkins)
Wander Nature in West Aird and Loch Ness
RE-CONNECT WITH NATURE IN WEST AIRD AND LOCH NESS
When the 'spirit' of the Highlands and Islands of Scotland come to mind what do you think of? No doubt for many people it is embodied in our iconic landscapes, where every nook and cranny features an endless variety of flora and fauna. Nowhere is this more true than in Aird and Loch Ness where the hills, glens, lochs and burns alike conduct a harmonious symphony of colours that are delight to the senses.
In this self-guided, multi-day itinerary, slow down, relax and re-connect with nature in western Aird and Loch Ness. From glorious Glen Affric to the woods of Dundreggan, explore wonders of nature that will leave you floored.
On your journey, be responsible and respectful of local communities and wildlife and follow the Scottish Outdoor Access Code.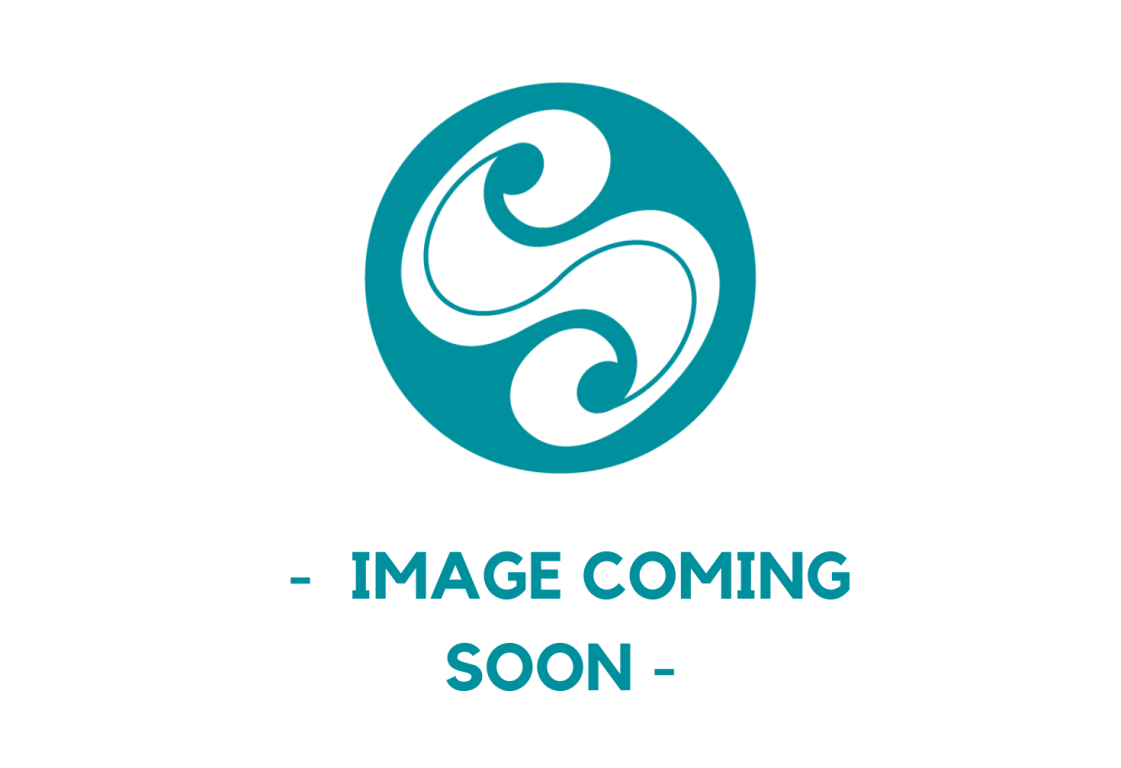 ALLT NA CRìCHE
Begin your journey at the enchanting beauty of Allt na Crìche. The burn winds through a delightful mix of pine and birch trees, past a cascading waterfall, and leading up to a viewpoint like no other. With truly magnificent views of Loch Ness and Fort Augustus, sit back, relax and take in breathtaking sights.
INVERMORISTON BRIDGE AND FALLS
Continue your journey by heading north to admire the inspiring Invermoriston Bridge and Falls. Built in 1813 by the 'Colossus of Roads' Thomas Telford, in the village of Invermoriston (Scottish Gaelic: Inbhir Mhoireastain), the bridge formed part of the main road between Fort Augustus and Drumnadrochit (Scottish Gaelic: Cille Chuimein; Druim na Drochaid). In the 1930s the bridge was replaced with the one you see today.
The bridge is now a unmissable spot for photographers and wildlife lovers. In the daylight its arches frame a spectacular scene - the River Moriston (Scottish Gaelic: Abhainn Mhoireastain) bounded by tall, majestic trees that will take your breath away.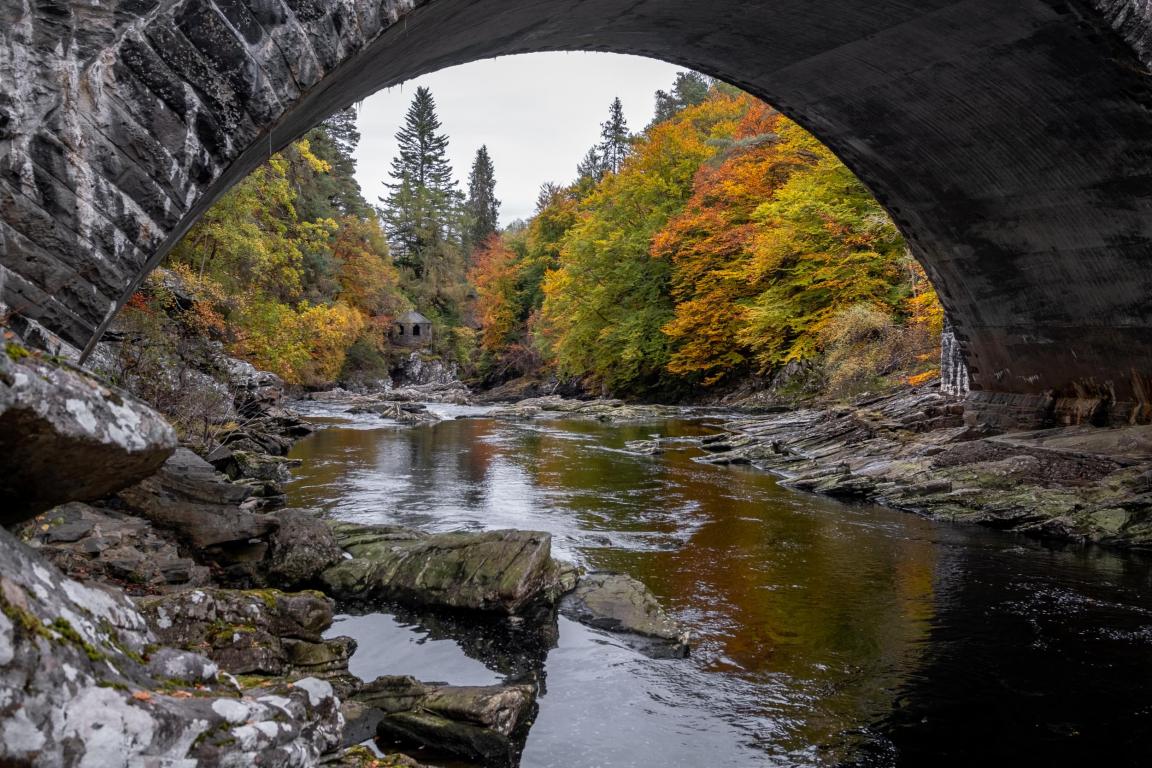 Invermoriston in Autumn, Inverness
Image provided by Visit Inverness Loch Ness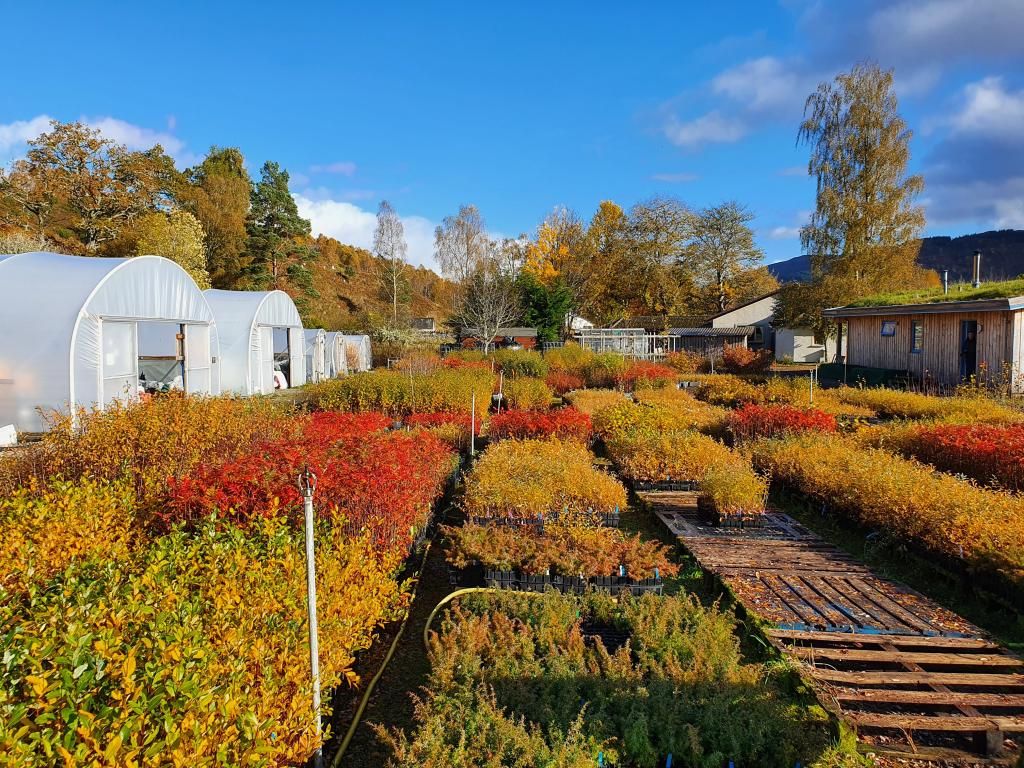 Dundreggan Tree Nursery
Image provided by Trees for Life
DUNDREGGAN REWILDING CENTRE
Now more than ever, engaging with nature is incredibly important to understanding our natural heritage and preserving our landscape for future generations. In the heart of the ancient Caledonian forest, the Dundreggan Rewilding Centre (Scottish Gaelic: Àrainn Ath-fhiadhachaidh) presents visitors with a perfect opportunity to explore and connect with Gaelic culture and to the natural world.
Whether it's exploring the history of conservation at the Dundreggan estate with a guided rewilding walk, taking a tour of the centre's growing tree nursery, exciting community events or experiencing the swathes of stunning woodlands for yourself through an extensive footpath network, the Dundreggan Rewilding Centre is sure to inspire you.
COFFEE, CAKE AND COOS
Continue your visit to Glenmoriston with a pit stop at the Redburn Café & Gift Shop. Savour the taste of quality, locally sourced Highland produce - from the café's own garden! After a hearty lunch, we recommend you tuck in to some tasty cakes and coffee to round off your meal. Afterwards, why not pay a visit to feed the cheeky neighbouring Highland coos across the road - a perfect way to end your time in Glenmoriston! Surrounded by great art, coos, and even greater hospitality, the Redburn Café is sure to win your heart.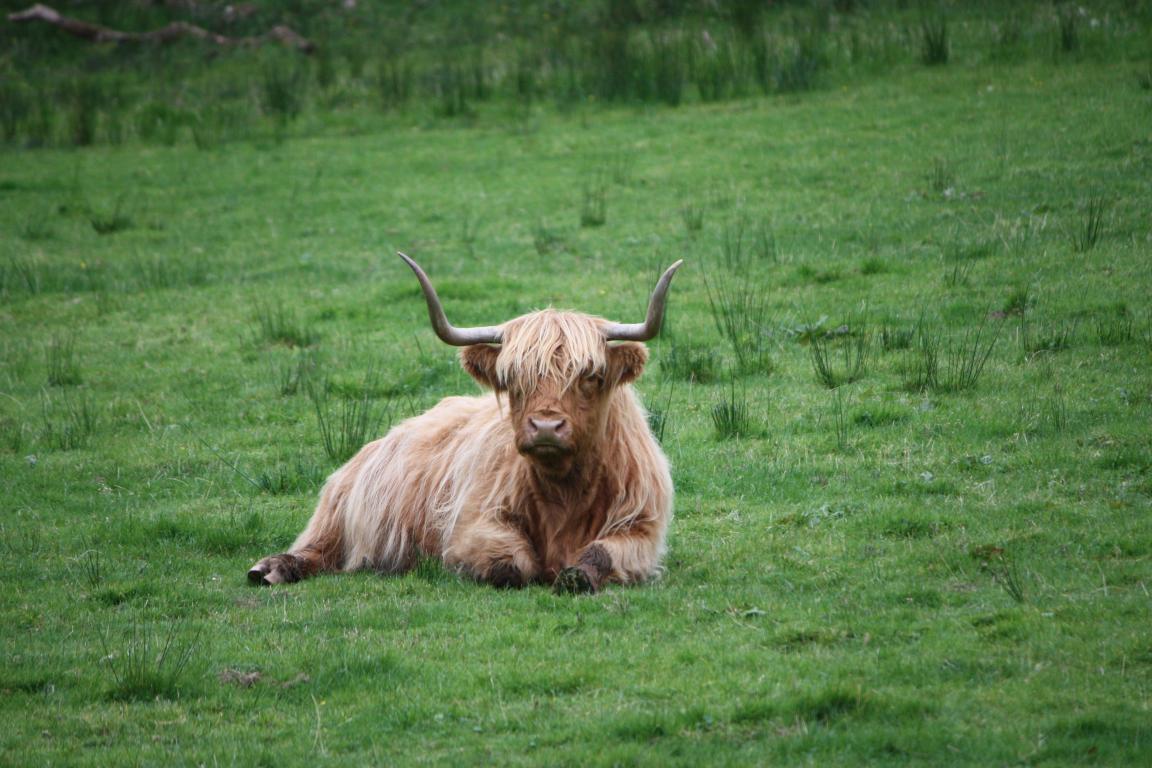 A Highland Coo in a Field.
Image provided by Pexels/Trina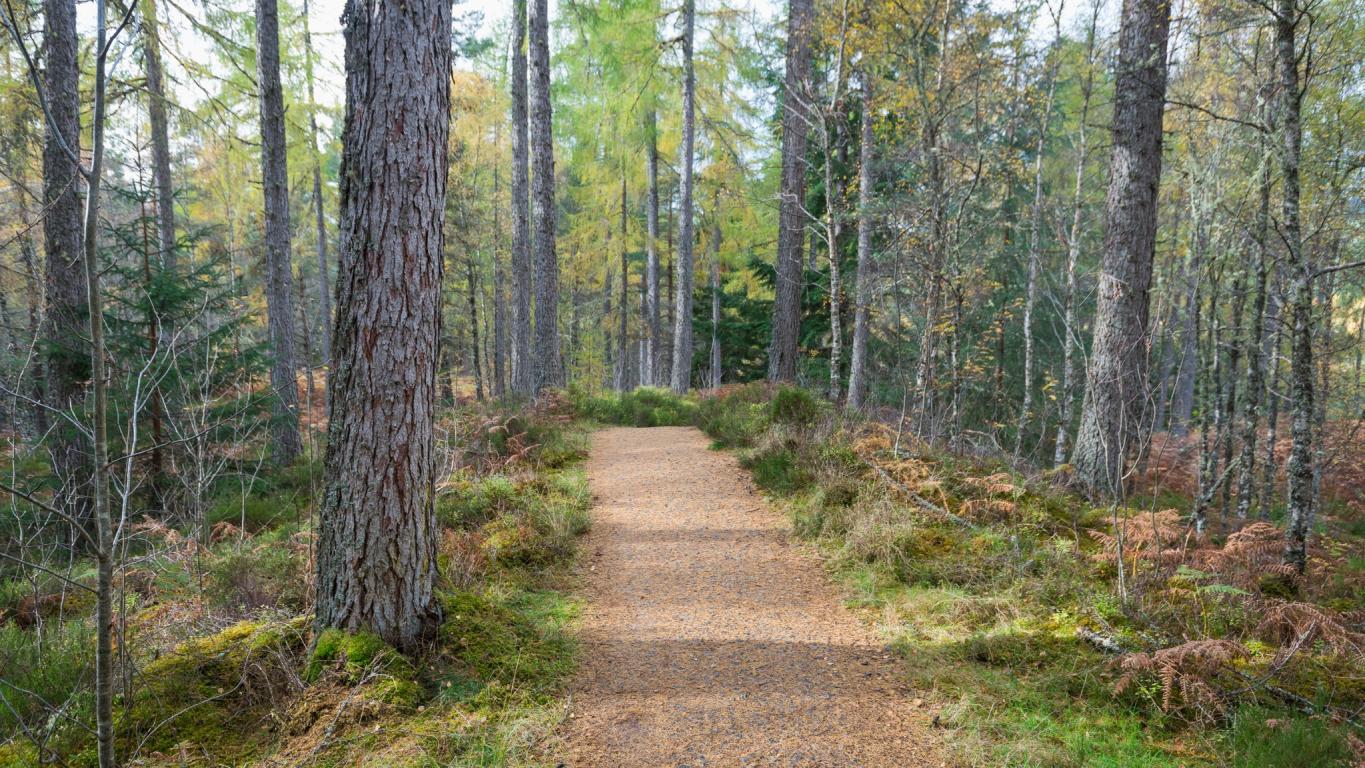 Tomich, Inverness
Image provided by VisitScotland/Kenny Lam
TOMICH
Embark northwards towards the terrific village of Tomich (Scottish Gaelic: Tomaich). Renowned as the ancestral home of the beloved golden retriever, Tomich is a charming Victorian model conservation village characterised by brightly painted buildings which make it a favourite place for many to visit.
In this audio interview, listen to Jane Cumming as she explains her fondness for Tomich and other picturesque planned villages across the Highlands.
...there's something just magical about it...
GLEN AFFRIC
From Tomich, make your way to the glorious Glen Affric (Scottish Gaelic: Gleann Afraig). Home to a magnificent mix of native woodlands, including the ancient Caledonian Forest, serene lochs, moorlands and an array of wildlife the glen truly lives up to its name 'the most beautiful glen in Scotland'. It is no wonder that Glen Affric is often cited as many people's favourite spot in the Highlands!
In this particular recording, explore the wonders of Glen Affric through the eyes of Raoul Curtis-Machin.
...you have almost the Highlands in a microcosm on that journey.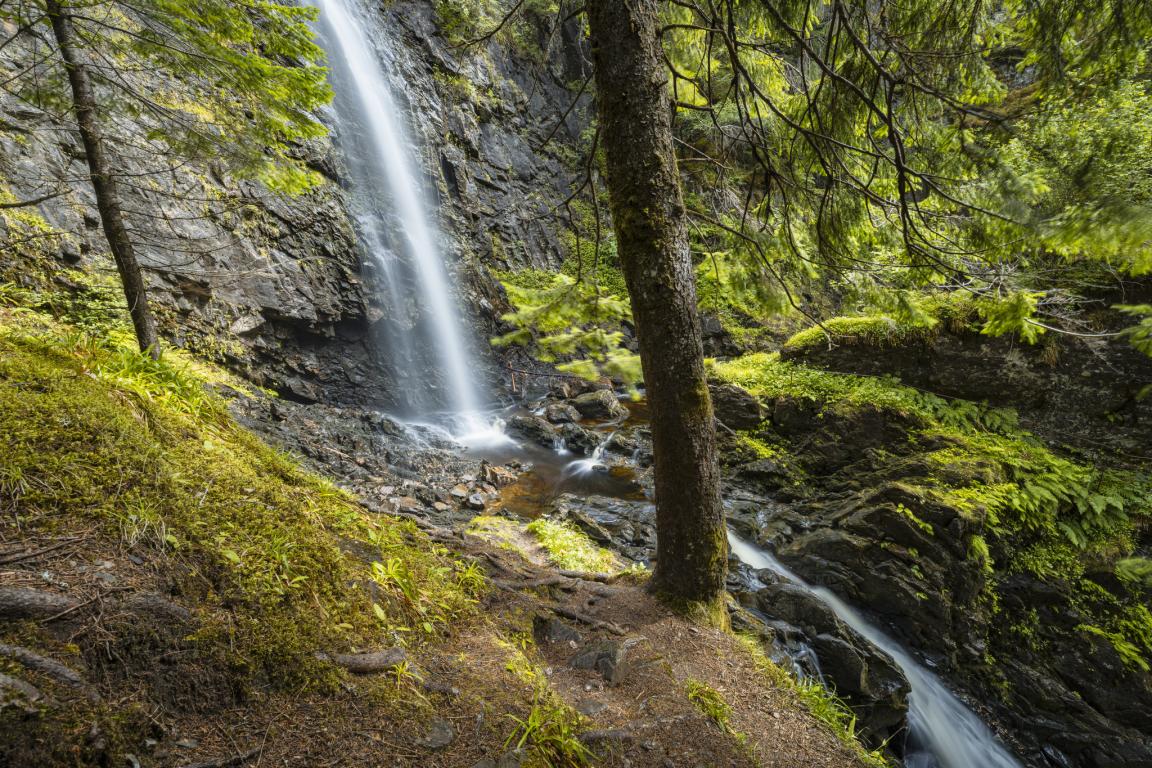 The Phenomenal Plodda Falls in Glen Affric
Image provided by VisitScotland/Kenny Lam

Loch Beinn a Mheadhain at Glen Affric
Image provided by VisitScotland/Kenny Lam
CANNICH
Conclude your journey exploring nature in West Aird and Loch Ness with a visit to the charming Cannich (Scottish Gaelic: Canaich). With Glen Affric National Nature Reserve and the stunning Loch Beinn a Mheadhain on its doorstep, Cannich is a must-visit for nature lovers and outdoor enthusiasts. End your journey by sampling the village's excellent hospitality and luscious local produce at The Slaters Arms or with a visit to the Bog Cotton Café.
Share this itinerary
Destinations on this Itinerary
Stories