Three Cooked Shrimps,Plated (Credit: Dana Tentis)
Shrimply the Best
THIS ONE'S FOR THE SEAFOOD LOVERS
The Outer Hebrides are famed for their spectacular seafood. The seas around Hebridean islands like the Uists, where the warm water of the Gulf Stream meets the cold current of the North Atlantic, provide the perfect conditions for producing high-quality fish and shellfish. 
From sensational scallops to smoked salmon, luscious langoustines to luxuriant lobsters, the variety of sustainably and locally sourced produce is sure to satisfy any seafood lover. The mastered, unique processes behind the smokehouses across North and South Uist add another level to already top-notch produce - imparting further depth and creating truly unmissable flavour sensations.
Savour the flavours and support these community favourites from Uist's unique seafood scene in this self-guided, multi-day itinerary. On your journey, be responsible and respectful of local communities and wildlife and follow the Scottish Outdoor Access Code.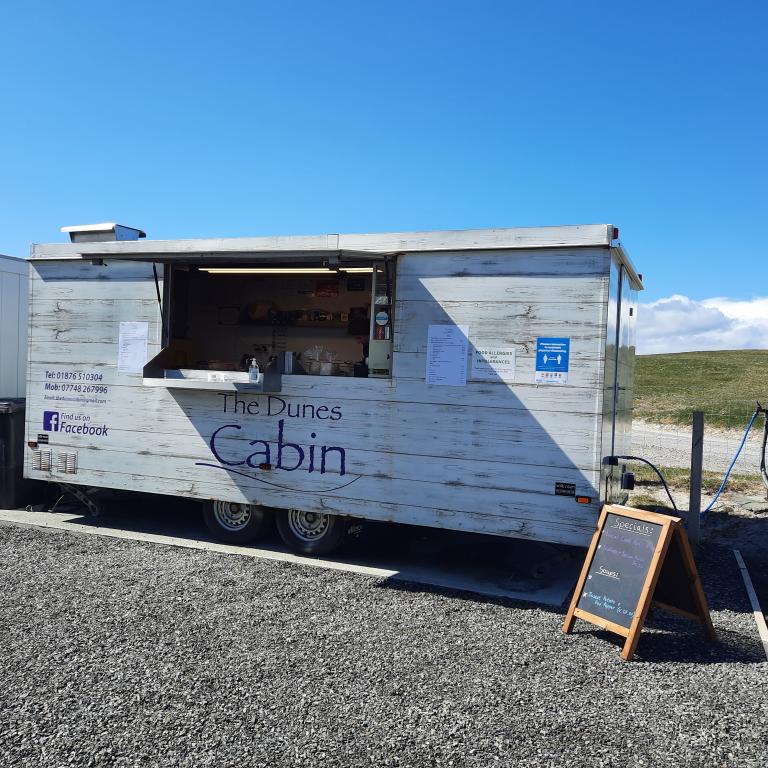 The Dunes Cabin, North Uist
Image provided by Dunes Cabin
THE DUNES CABIN | NORTH UIST
Begin your journey with The Dunes Cabin. At the centre of the stunning Hougharry Bay, and a short distance from RSPB Balranald Nature Reserve, the Dunes Cabin serves up mouth-watering fresh local seafood, including famed Lochmaddy Bay Prawns and Kallin Crab, and a delightful array of home-baking treats. Open from April to the end of September, a bite to eat at the Dunes Cabin is a wonderful way to start your seafood journey.
NAMARA SEAFOOD CAFÉ | GRIMSAY
Surrounded by the clear, blue waters of Kallin, discover the sensational Namara Seafood Café. The café sits at the heart of the thriving Kallin pier, the centre of Grimsay's growing fishing fleet. Renowned by locals and visitors alike for its langoustines, scallop and bacon rolls and seafood platters, this small café sure packs a punch and is a must-see for all foodies.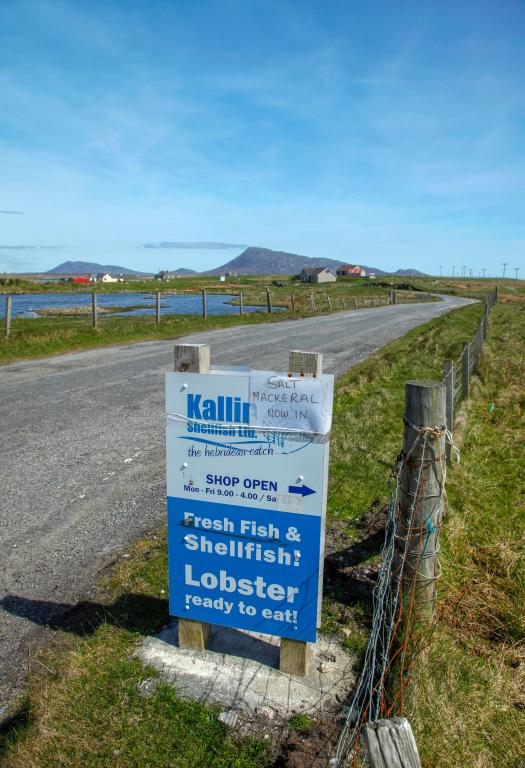 Kallin, Outer Hebrides
Image provided by VisitScotland/Paul Tomkins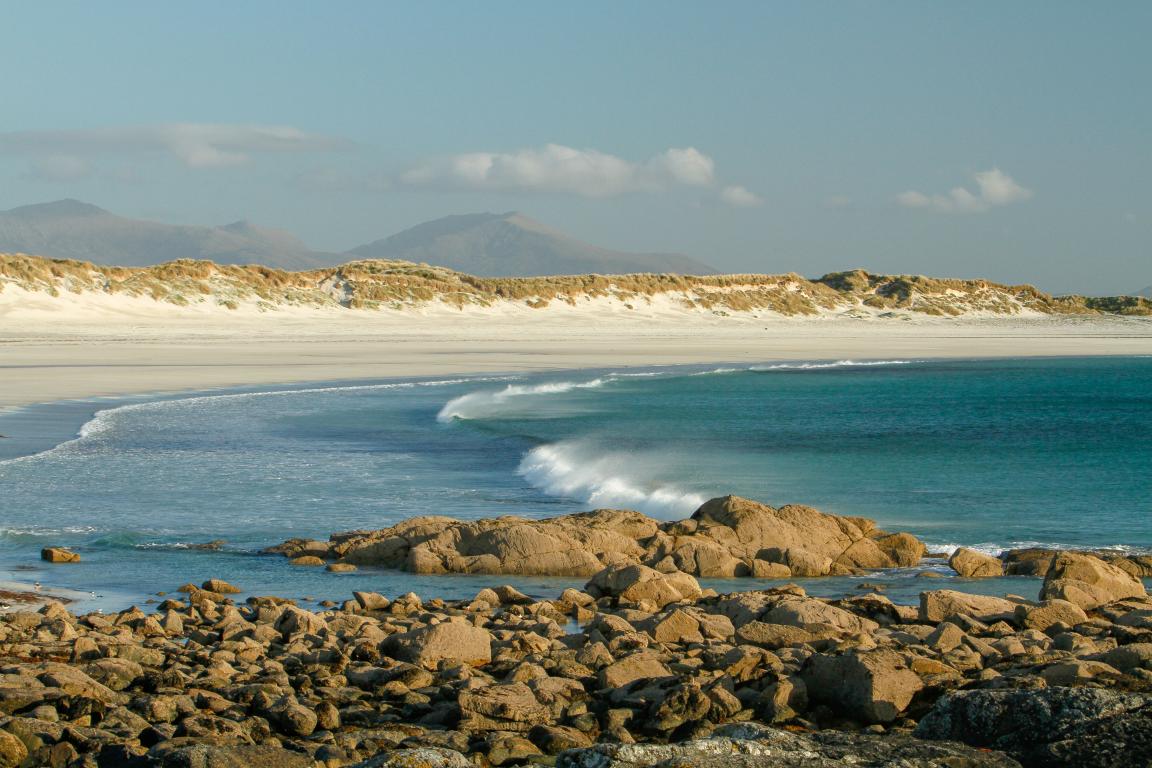 Culla Bay, Benbecula
Image provided by VisitScotland/Paul Tomkins
THE STEPPING STONE | BENBECULA
Continue your journey to The Stepping Stone, a small family run restaurant just a stone's throw away from Benbecula Airport, Balivanich. Known for its generous portion sizes and soft, flaky haddock, the Stepping Stone is a well-established eatery frequented by both locals and visitors on their travels across the Uist islands.
CROFT AND CUAN | SOUTH UIST
Located in the bustling Lochboisdale ferry port, the Croft and Cuan celebrates top tier local produce in an array of street food styles. From flavoursome langoustines, crab and monkfish tacos, divine veggie and vegan options to the sumptuous South Uist Venison Mac 'n' Cheese, the Croft and Cruan has something to satisfy all your cravings and dietary requirements.
Croft and Cruan, Outer Hebrides
Image provided by Northport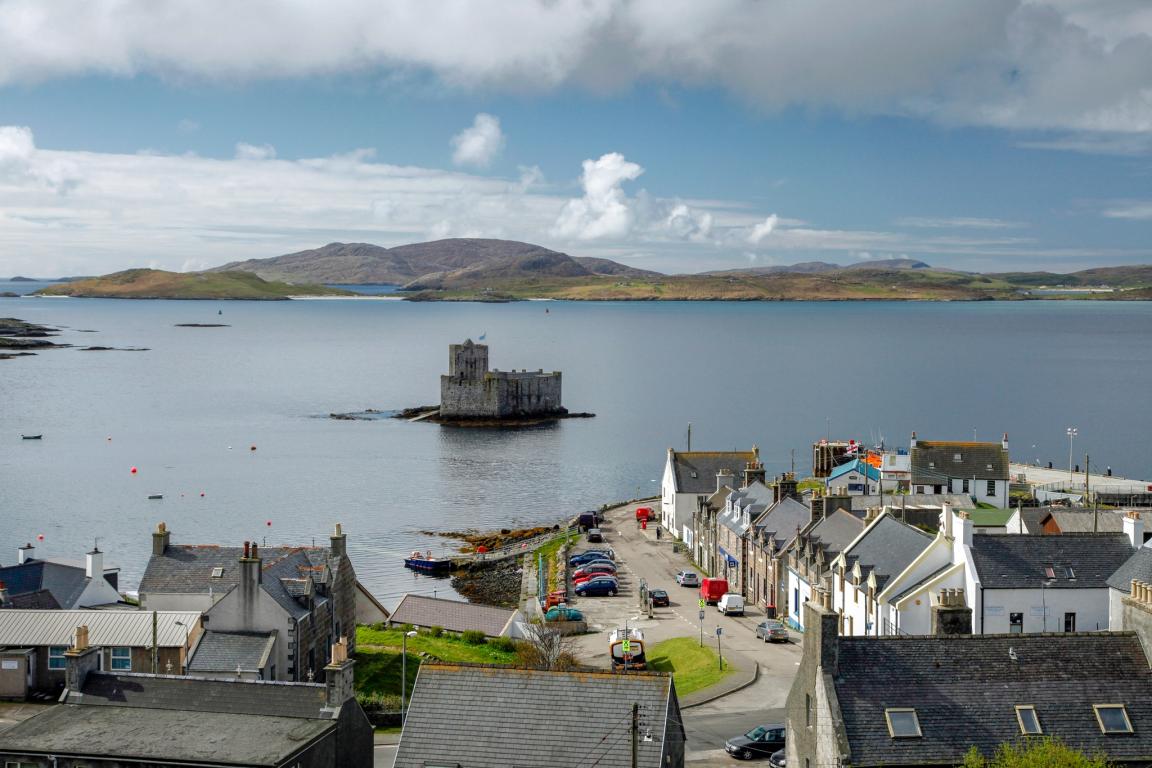 Kisimul Castle and Castlebay, Isle of Barra
Image provided by VisitScotland/Paul Tomkins
CAFÉ KISIMUL | BARRA
Finish your journey in Barra and experience a legend of Uist's culinary scene. Since its opening in 2004, Café Kisimul has become a firm favourite for locals and visitors alike serving up an effortless blend of Indian cuisine with local Hebridean seafood and produce. On your visit, following its reopening in April, be sure to try the highly-rated scallop pakora or the Barra monkfish masala which are a hit with diners.
Share this itinerary
Destinations on this Itinerary
Stories