This is the Home of Outdoor Walking at All Levels
Arguably, the best way to experience the Highlands and Islands is on foot.
With so many forest walks, coastal walks, and, of course, hill and mountain walks, there's no shortage of different landscapes to explore, while always being mindful to respect and protect the local environment too. For many, the main attraction is the region's numerous Munros, which are those hills that rise to over 3,000 feet (914.4m). Many Munros can be challenging walks, but on a good day the views can be breath-taking from the summits of the highest peaks in Argyll, Skye, the Cairngorms, Glencoe, Torridon and beyond.
Naturally, however, the Munros are not for everyone, particularly in winter, so fortunately there are many other wonderful walking opportunities at lower levels. Forest walks abound, many with clearly waymarked trails such as those found around Ariundle, Beinn Eighe, Abernethy or Glen Affric. Coastal walks found from Arran and Moray to Orkney and the Outer Hebrides offer the best of both worlds with marine and land-based nature all around. Other superb walks, such as the South Loch Ness Trail, offer a unique perspective on familiar landmarks. Elsewhere there are numerous community all-ability paths built for pushchair or wheelchair access to ensure that everyone can enjoy the great outdoors.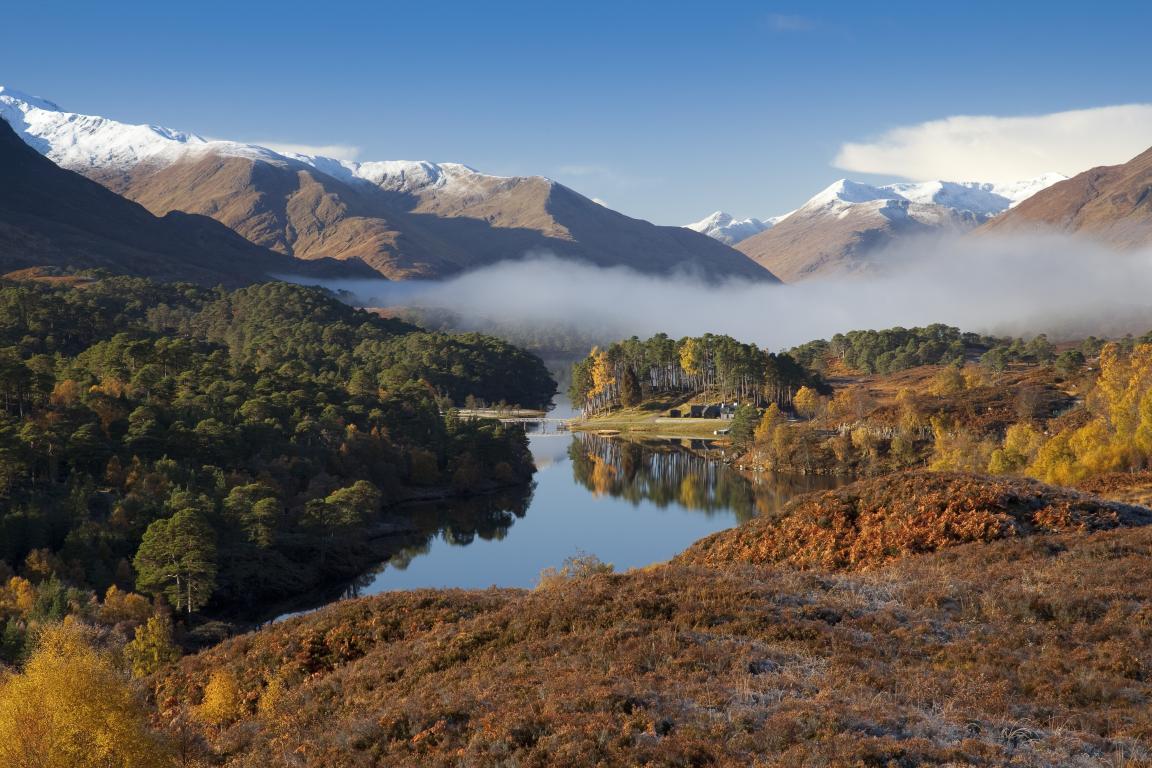 Take in the mountain views of Glen Affric in Autumn, Cannich
Image provided by Visit Inverness Loch Ness
Spotlight on the South Loch Ness Trail
With so many walking routes to choose from, avid adventurers are spoilt for choice in the Highlands and Islands. Lovers of stunning views, wildlife and local history will enjoy the meandering route of the South Loch Ness Trail. A mixture of forest trails, farm tracks, ancient rights of way and minor roads, the trail is suitable for walkers, mountain bikes and horse riders.
Starting at Torbreck on the edge of Inverness, the trail finishes in the village of Fort Augustus on the shores of Loch Ness. Most people walk the trail over two or three days, stopping overnight in Foyers or Whitebridge, or alternatively camping wild on the trail, but you may choose to walk sections at your leisure and enjoy a slower adventure outside of the bustling city.
Find out more about the trail here.
Foyers, South Loch Ness (Credit: Visit Inverness Loch Ness)
Suidhe, South Loch Ness (Credit: Visit Inverness Loch Ness)
Dores, South Loch Ness (Credit: Visit Scotland/ Stuart Brunton)