Tom nan Sìthichean 's Choinnich Odhair (The 'Fairy Hill' of Inverness)
Seall sa Ghàidhlig
On the south-western edge of the City of Inverness, rises a steep hill – often likened to an upturned boat – which is now surrounded and topped by a cemetery first developed in the Victorian era. However, the shapely Tomnahurich ('tom nuh HEW-rich', the 'ch' as in loch) has a much more ancient heritage and, even today, it is reckoned to be one of the prime locations in northern Scotland where the Gaelic sìthichean 'fairies' made their home. A great tale of two fiddlers from Badenoch who played for the otherworldly dancers within the fairy hill is still told. They emerged after a single merry night to find that a century had elapsed in their absence.
The feature is an esker (a glacier-formed ridge) whose Gaelic name is Tom na h-Iùbhraich 'the hill of the yew wood', and for long it stood immediately outside the town boundary of Inverness, surrounded by flat pastureland. At the beginning of summer, a celebrated annual horse race would take place around its periphery. Today, the walker's reward for climbing the hill is a fine view, through the planted trees, of the Highland capital and its environs.
In addition to its development as a cemetery, Victorian times also witnessed the digging of the Caledonian Canal along the western periphery of Tomnahurich. This validated the 17th century prophecy of Coinneach Odhar 'The Brahan Seer', a Lewis-born soothsayer who lived nearby in Easter Ross, that the day would come when ships would sail around the back of Tomnahurich. This scenario seemed absurd two centuries before the canal was conceived and developed but Coinneach was proven correct! If you are interested in the life and heritage of this fondly remembered, if slightly nebulous, Highland seer, why not take a trip across the Kessock Bridge to Chanonry Point on the Black Isle? There, in a location now famous for the viewing of Moray Firth dolphins, there is a memorial to Coinneach, who was reputedly put to death in a barrel of burning tar on the orders of Lady Seaforth, his patron's wife, for informing her of her husband's infidelities.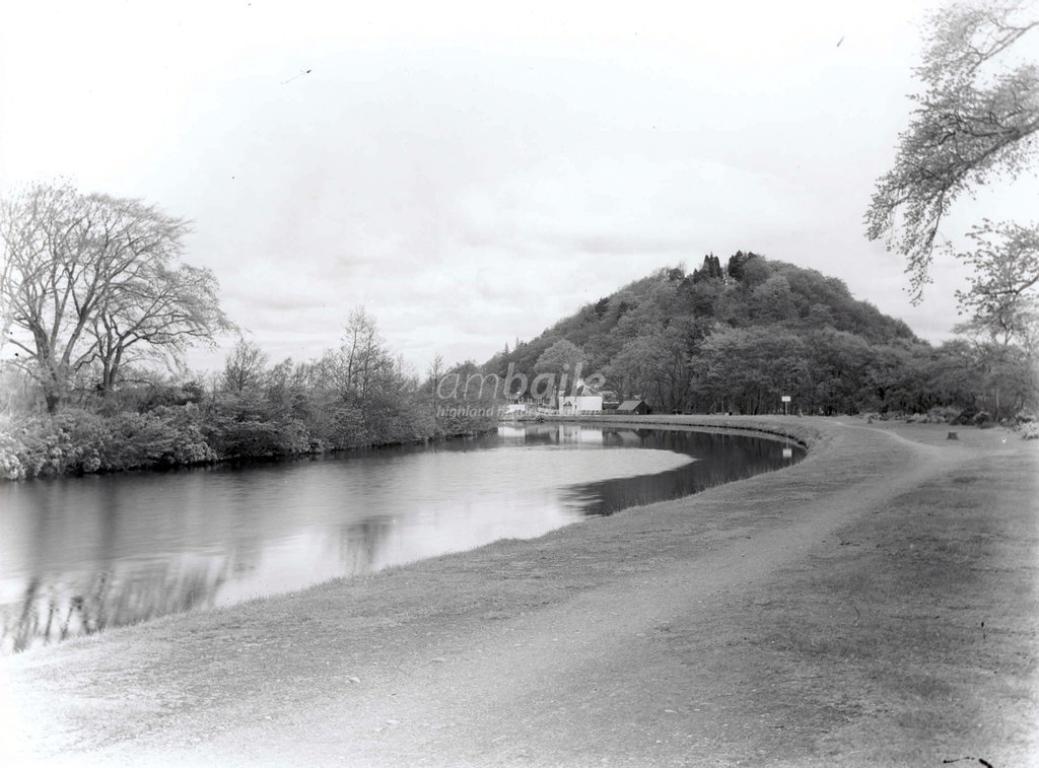 View looking onto Tomnahurich Hill from the Caledonian Canal.
Image provided by Am Baile