Location, Location, Location – Filming in the Highlands and Islands
Whether it's the eponymous TV series Shetland or Tobermory on Mull providing a colourful backdrop for fictional Balamory, the sights and sounds of the Highlands and Islands are never off UK screens for long.
From classics such as Hamish Macbeth filmed in Wester Ross and Monarch of the Glen filmed in Badenoch to the international sensation that is Outlander, the history and landscapes, the culture and communities of the Highlands and Islands have long proven to be celebrities in their own right. 
With the big screen blockbusters getting into the action too – with everything from Harry Potter to James Bond being filmed on location here – there is no shortage of iconic places to visit and tours to enjoy. But more than that there are also plenty of opportunities to catch the latest releases too – with cinemas in towns such as Oban, Fort William, Inverness and Elgin – and other smaller venues in locations such as Cromarty, Thurso and Stornoway to name just a few. And then there is the superb Screen Machine, the 80-seat mobile cinema that visits over 40 communities throughout the islands and the west coast – and which always provides a memorable film-going experience for film lovers.
Sites, Sets and Scenery – famous sites to visit around the Highlands and Islands
Ardverikie has long been a star of the silver screen and is perhaps most famous as the setting for "Glen Bogle" in the much-loved BBC series Monarch of the Glen (2000–2005) - but it has also featured in many other films, TV programmes and commercials. The main house doubles as Balmoral in The Crown (2016 -) and has also been featured in The Missionary (1982), Mrs. Brown(1997), Salmon Fishing in the Yemen (2011) and No Time to Die (2021).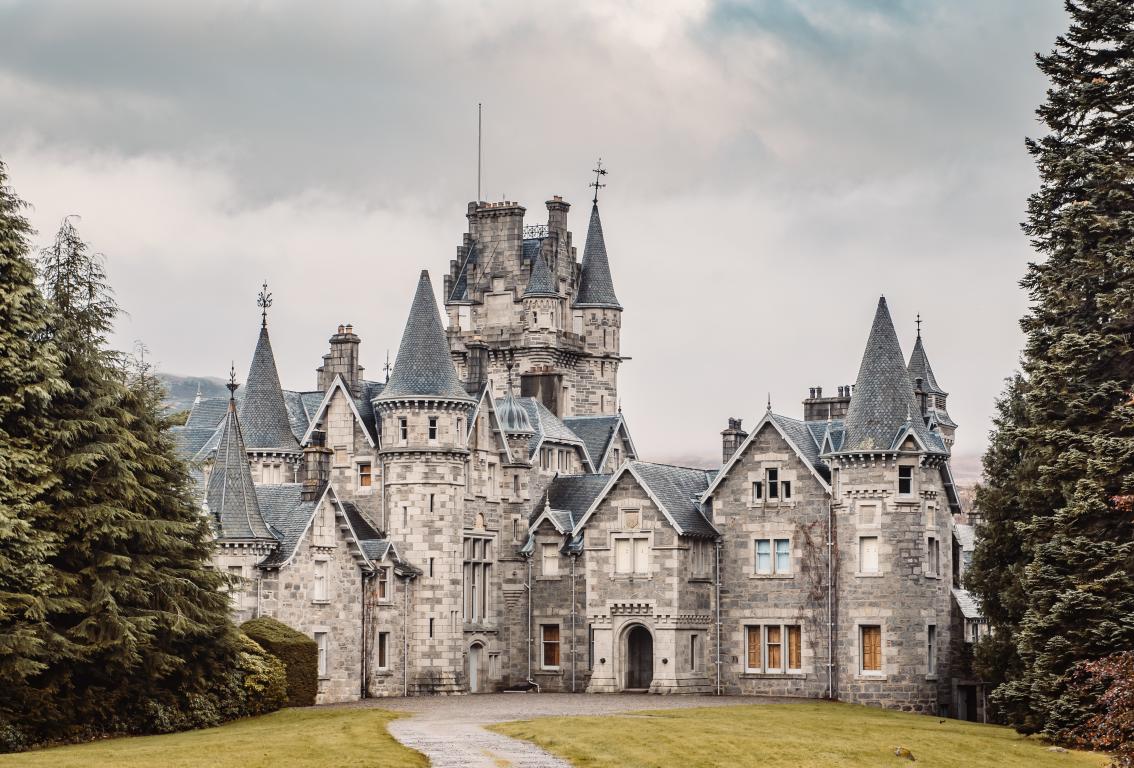 Ardverikie Estate, Loch Laggan, Newtonmore
Image provided by Airborne Lens
The Bealach na Bà, an ancient single-track cattle road in Wester Ross, has been featured in Stardust (2007) and King Arthur: Legend of the Sword (2017). The scenic view of Bealach na Bà was used in the Stardust scene where Captain Shakespeare (Robert De Niro) steers his flying boat towards the mountain top city.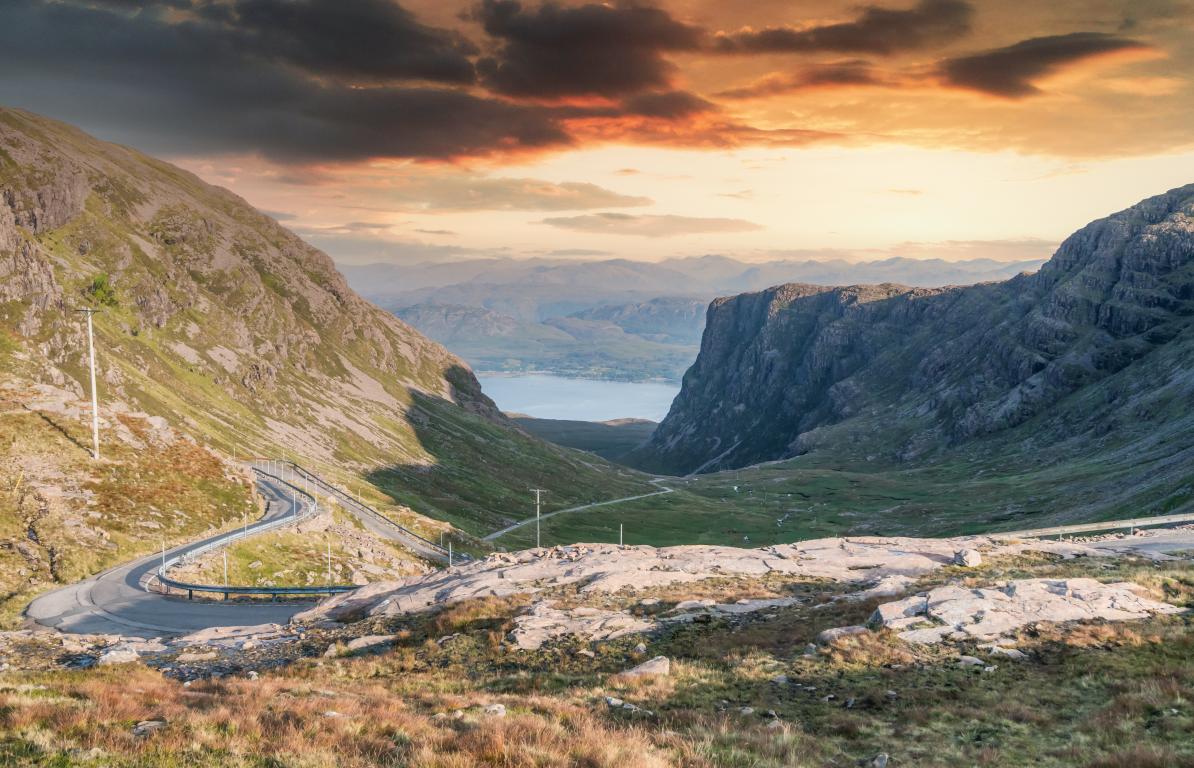 Bealach Na Bà, Wester Ross
Image provided by Airborne Lens
Although many castles from across the Highlands and Islands have featured in film and TV, such as Eilean Donan Castle and Kilchurn Castle, fans of classic British comedy will recognise the stunning views surrounding Castle Stalker used as a filming location for Monty Python and the Holy Grail (1975).
Castle Stalker, Argyll
Image provided by Airborne Lens
One of the most iconic Highland locations featured on film and TV is Glencoe. It's majestic beauty and snowy peaks notably feature on The 39 Steps (1935), Highlander (1986), Braveheart (1995), Rob Roy (1995), Harry Potter and the Prisoner of Azkaban (2003), Centurion (2010), and The Eagle (2011).
However, Glencoe was also used in 2020 for Bollywood film Shiddat to recreate a group of refugees crossing the mountains of Afghanistan.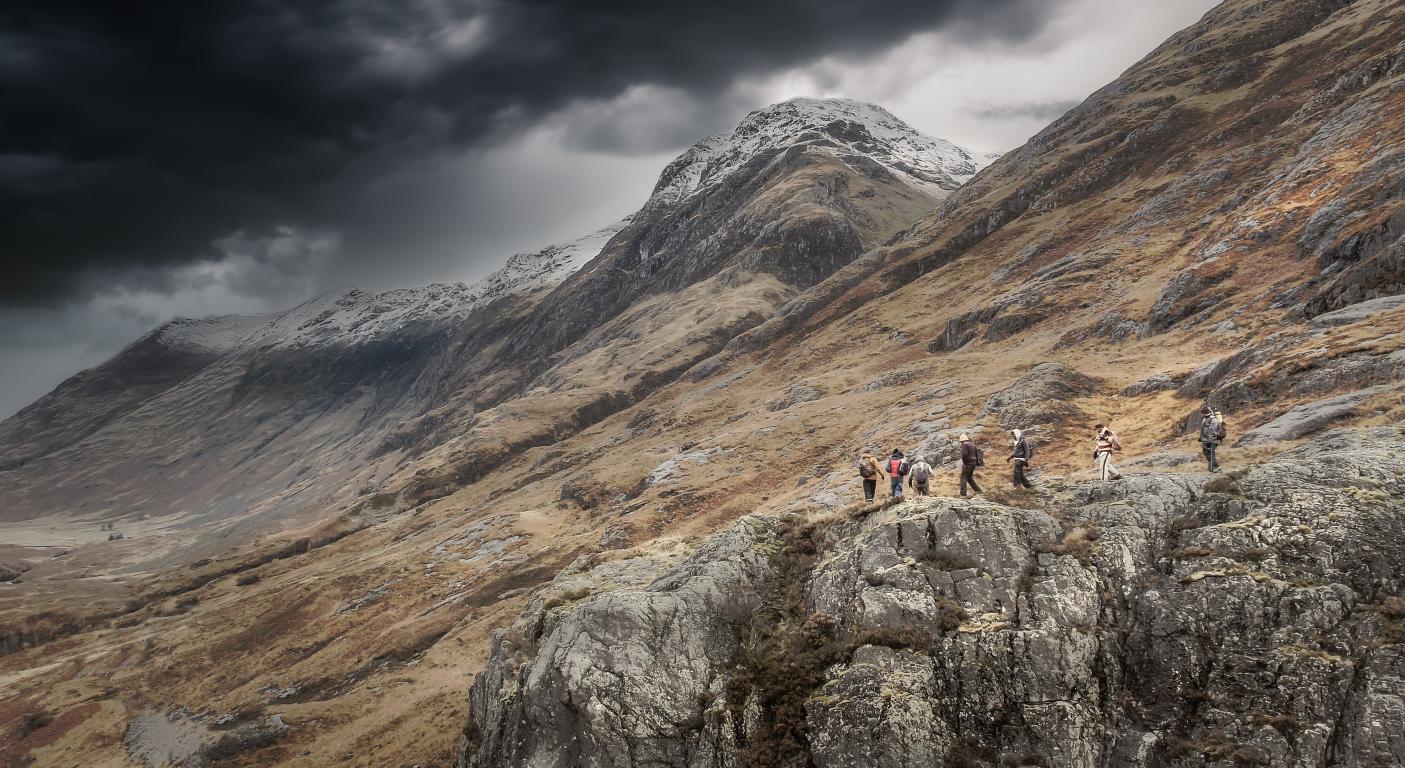 Glencoe used as a double for the Afghan mountains in Shiddat (2020).
Image provided by Airborne Lens
Stanley Kubrick's 2001: A Space Odyssey was partly filmed on the Isle of Harris where its lunar landscape represented Jupiter on screen.
Isle of Harris doubled as Jupiter's rocky landscape.
Image provided by Airborne Lens
To the east of Inverness, lie the Clava Cairns – a type of Bronze Age circular chambered tomb – on a site which is full of mystery and legend. The Clava Cairn doubles as the mysterious stone circle,  'Craigh na Dun', where Claire falls through time to 1700's Scotland in the popular TV show Outlander.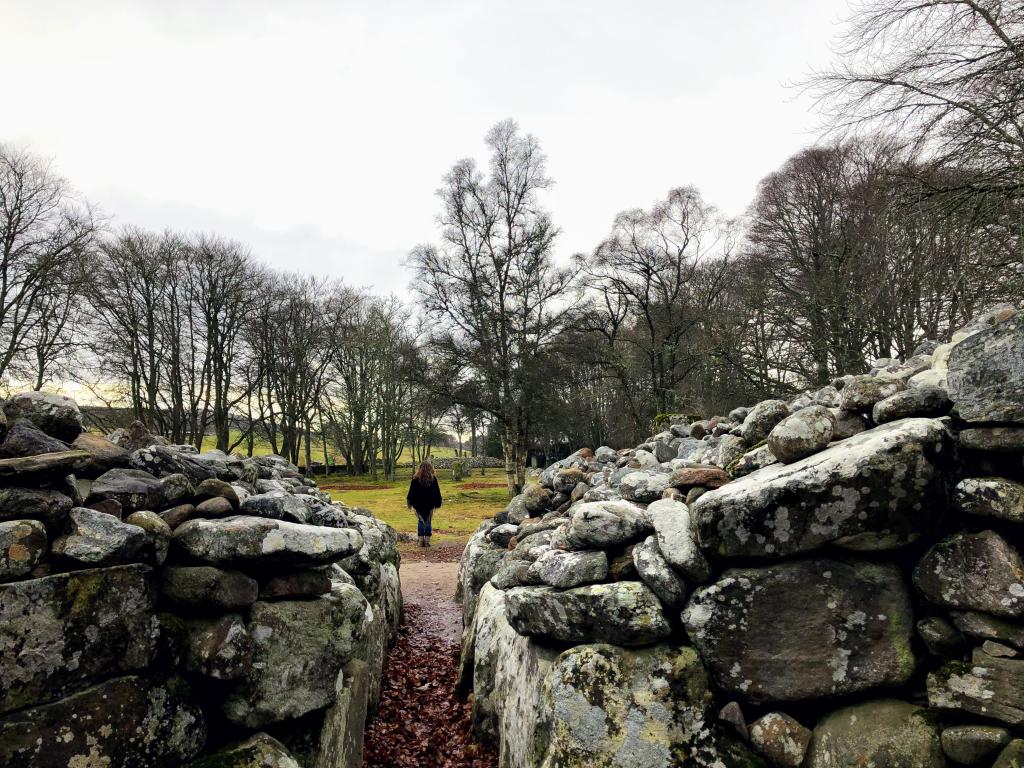 Clava Cairns, Inverness
Image provided by Visit Inverness Loch Ness
Uncover more information on Outlander filming locations across the Highlands and Islands and plan your trip to these iconic sites!
Itineraries