Sunset over Loch Maree from Slioch (Credit: Stephen Austin)
Wild at Heart
By Stephen Austin
---
Indeed, my Spirit is in the Highlands
For me, it's about having the freedom to roam and explore wild places for adventures and experiences, either on foot, mountain bike, or swimming in gorges; especially if it includes an overnight camp. Bikepacking is ideal for this as it gets me further and faster into the hills, leaving time to explore further by foot, or to fish for beautifully spotted wild brown trout, or to just sit and watch the wildlife or marvel at the amazing landscape and how it was shaped by the last ice age.
From the top of Suilven I have watched a blood-red crescent moon rise into a sky filled with a millions stars. From the top of Slioch I was entertained watching a tribe of feral goats in the gloaming; way after a beautiful calm sunset had passed. At the magical Sandwood Bay I practiced yoga as the sunrise cleared the mist away to reveal another lovely day. I have camped by the shores of Loch Etchachan amongst grasses ablaze in their autumn colours.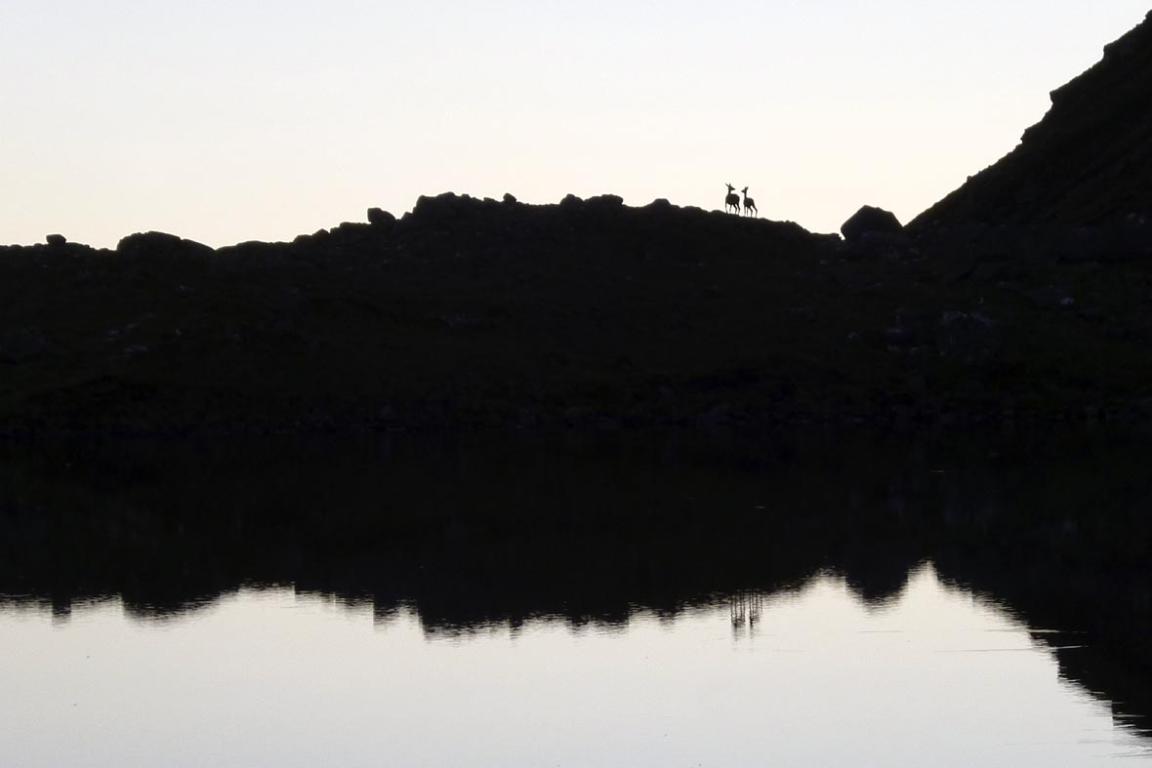 Image provided by Stephen Austin
Red deer by Lochan on Slioch, Wester Ross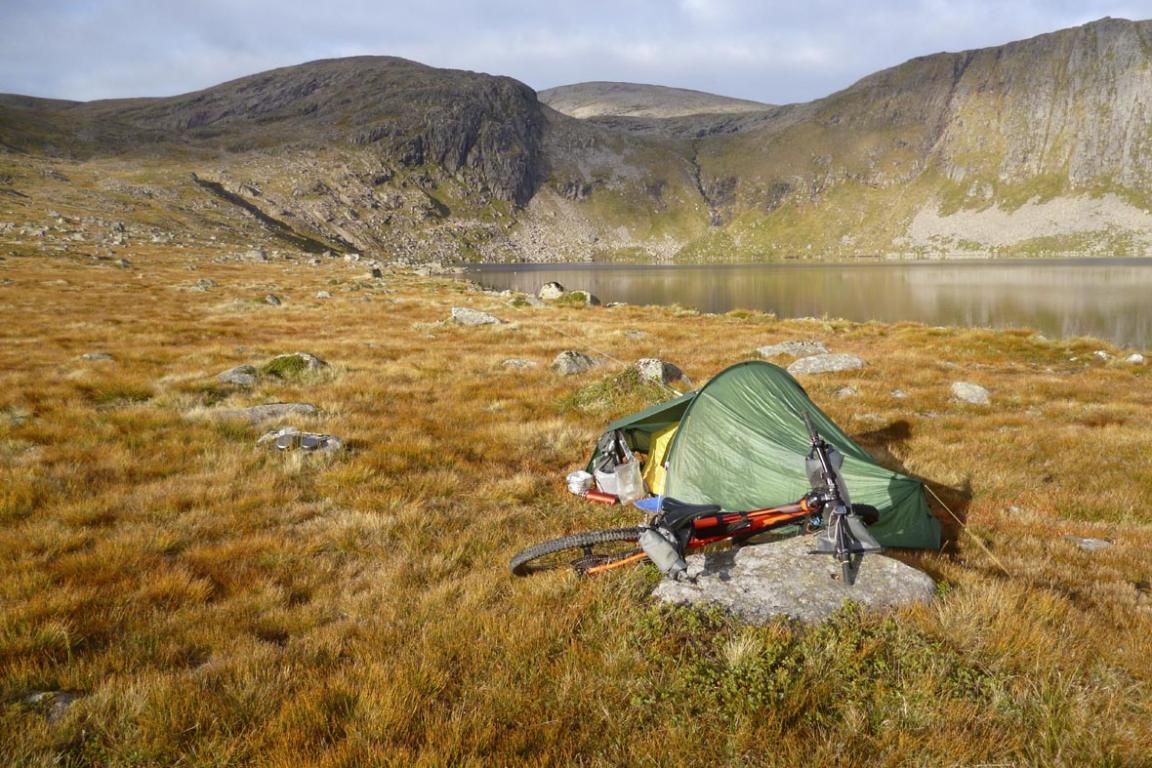 Image provided by Stephen Austin
Camping by Loch Etchachan, the Cairngorms
Near Loch Einich I watched a jet-black water vole casually swim in a small ford over the path. At a loch above Inverness, I watched a red-throated diver materialise out of the mist at dawn. In Coire an Lochain in the Cairngorms, with spindrift blowing like a diamond storm in the sunlight I watched a male ptarmigan fly up and hover above a female for a few seconds, before they both melted away into the landscape - magical! As a wildlife photographer, I am privileged to have been able to gain the trust of some of our most iconic species and so got to be in their close company, including mountain hare, dotterel and otter.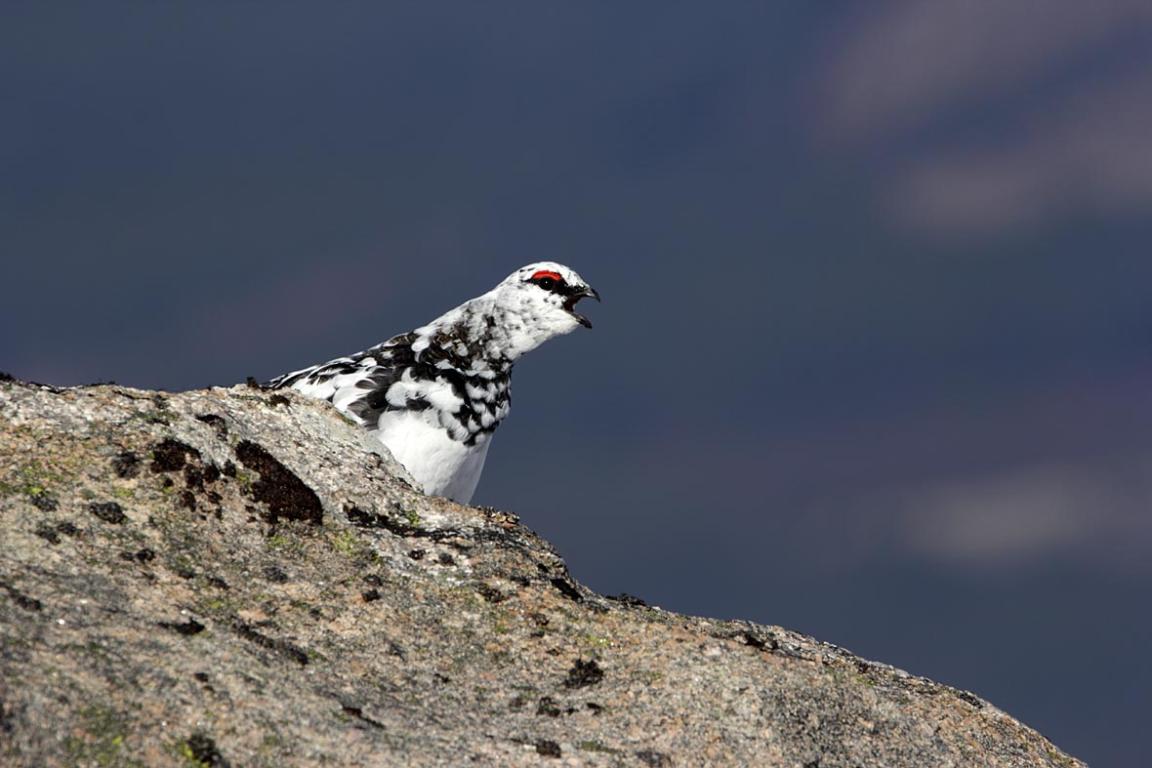 Ptarmigan spotted in the Cairngorms
Image provided by Stephen Austin
A ptarmigan bird calling out, the Cairngorms
In gorge swimming I remember once floating in a pool below a waterfall with rain gently falling around me. As it started to clear the sun came out and a brilliant rainbow appeared over the end of the gorge. Then, in a gravel-bottomed clear pool I watched small trout take morsels from the current while shafts of sunlight from the ripples danced around me like spears.
Indeed, my Spirit is in the Highlands.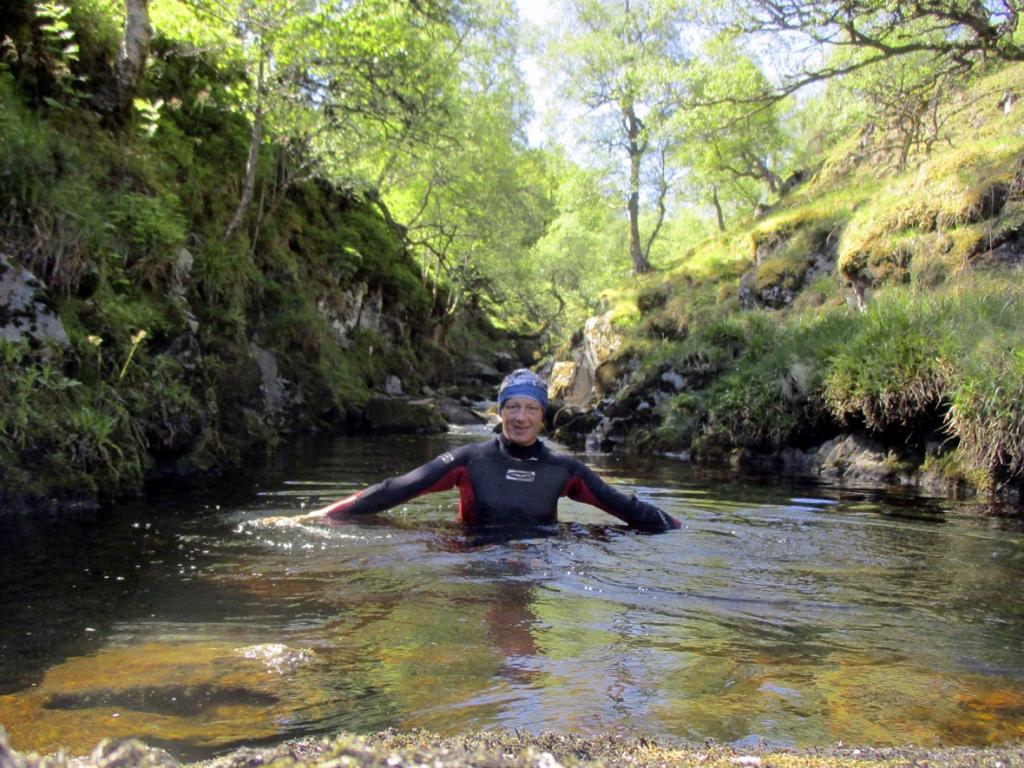 Gorge swimming near Inverness
Image provided by Stephen Austin
The story submitter, Stephen Austin, swimming in the sunshine and the clear water of a gorge in Inverness-shire.
---
We Want to Hear From You!
Share stories of your adventures in the Highlands and Islands
Stories are at the heart of what we do as a project and we are always looking to learn more about what the Highlands and Islands means to people who live, work, and visit here.
The timeless connections between people and place underline many of our stories, including Wild at Heart. We would love to know, are there are any outdoor activities or places you have visited that you feel embody the essence of the Spirit of the Highlands and Islands? Tell us below, we can't wait to hear from you!
Click here to share your story through our online story portal