Rosemarkie Beach (Credit: Mary-Dawn Mohun)
The Highlands - Bringing Joy Through Walking
---
Being outdoors amongst a spectacular and diverse landscape is my 'Spirit of the Highlands'!
My story begins on the east coast of the Highlands in a small coastal village tucked away on the southern shores of the Black Isle. Growing up in Rosemarkie was a delight for it kindled my life long love of being outside in the fresh air.
Rosemarkie's rocky coastline is a joy with its waves, crashing and pounding or gently lapping and calming, walking the sandy stretch of beach, at times piled high with seaweed, other times golden with clean sands, limpet covered rocks, and caves with ancient history, winding my way along the high path until the tidal ferry point decides whether I continue or return, climbing high to pick brambles for the winter jams and fruit crumbles.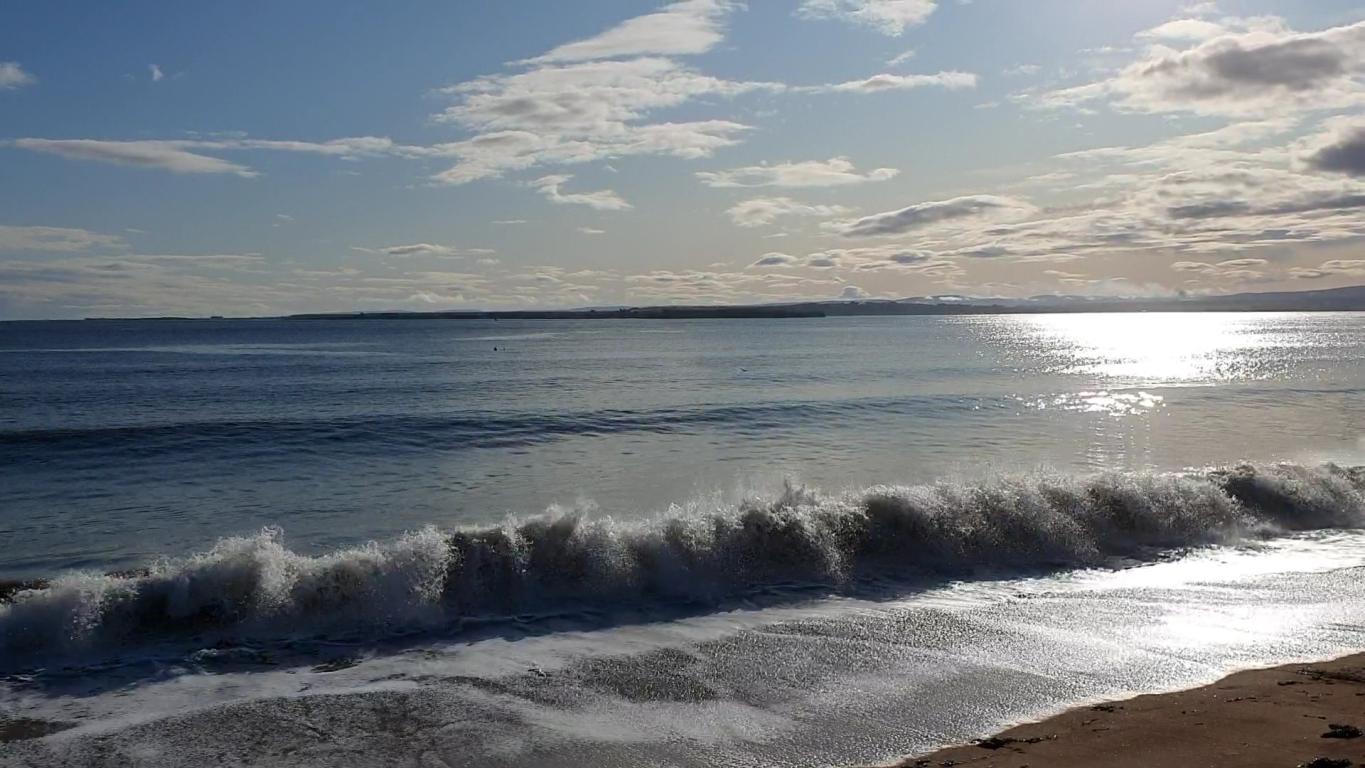 Rosemarkie Beach
Image provided by Mary-Dawn Mohun
A wave rolling into Rosemarkie Beach
Inland the Fairy Glen beckons me into its shady glades and high crags to enjoy the solitude until I reach the cascading rush of the first and second waterfalls. Leaving the fairies behind, quiet country roads take me over the Hill of Fortrose and down to Chanonry, home to Brahan Seer's memorial stone, the lighthouse which has overlooked the Moray Firth since the 19th century, and the bottlenose dolphins - if you are lucky enough to spot them.
In contrast, my walking and exploring has taken me to the boggy heather moorlands and soaring peaks of Wester Ross. In particular, a family favourite, a mountain called Stac Pollaidh, which sits in the Inverpolly Nature Reserve in a landscape of lochs and lochans, heathery slopes, small hills and high tops. Stac Pollaidh is not the highest mountain in the area, standing at 613m, but it packs a mighty punch. The climbing starts straight from the road and a well defined path winds it's way steeply up to the ridge. From here there are exciting opportunities for airy scrambles amongst the peaks and crags with spectacular views to the Summer Isles and the neighbouring inviting Corbetts.
I feel lucky that I live in such a place of wonderment that always fills me with excitement and awe inspiring contentment.
---
We Want to Hear From You!
Share your stories of adventure in the Highlands and Islands
Stories are at the heart of what we do as a project and we are always looking to learn more about what the Highlands and Islands means to people who live, work, and visit here.
The relationship between a person and their environment are vital to a sense of connection with a place. We would love to know, how does the 'Spirit of the Highlands and Islands' manifest itself when you are out in the landscape? Tell us below, we can't wait to hear from you!
Click here to share your story through our online story portal