Credit: Am Baile/ North Coat Visitor Centre
Robert Dick - Baker and Botanist of Thurso (1811-1866)
By Joanne Kaar
---
Wearing a swallowtail coat, jeans and a chimney-pot hat, Robert Dick often had children following him from his bakery in Thurso, as they were curious to know what he was doing on his walks. He was not only a baker, but also a renowned self-taught botanist, a geologist and naturalist. Interested in entomology, he collected moths, beetles, butterflies and bees. To bring the samples home he pinned them to the inside of his hat.
Robert Dick was born in Tullibody, Clackmannanshire in 1811. His father, Thomas Dick was an Officer of Excise. In 1826, Thomas Dick was promoted to Supervisor of Excise and moved to Thurso. In the summer of 1830, Robert Dick also travelled to Thurso where he set up his own baker's shop.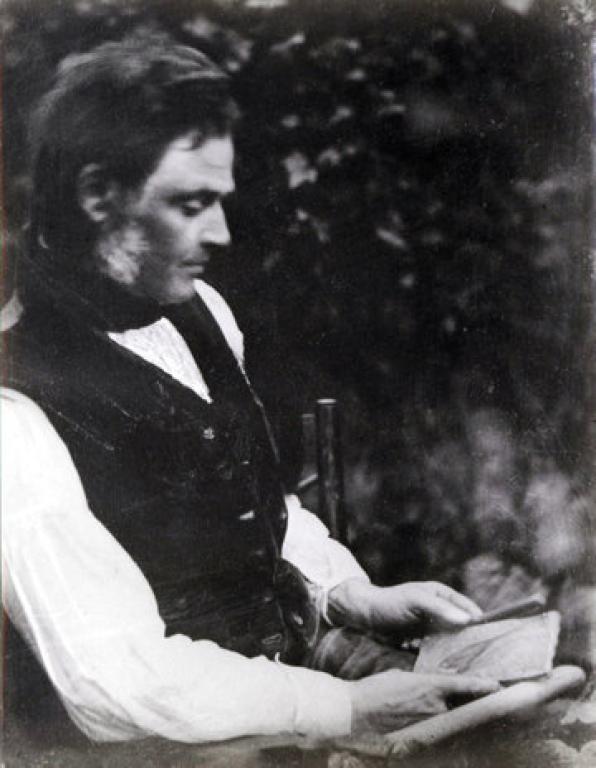 Image provided by Am Baile/ North Coat Visitor Centre
Baker and botanist Robert Dick (1811-1866) viewing leaf prints
Dunnet Head was one of his favourite places to walk, describing it as having a forest of ferns. Dunnet Head Lighthouse was built in 1831, an event Robert Dick must have witnessed.
Robert Dick saved old letters, envelopes, newspapers and documents to keep his collection of small plants and mosses in. His Herbarium collection is now in Thurso at the North Coast Visitors Centre (once Caithness Horizons) and contains around 3000 specimens. Robert Dick died in 1866.
My name is Joanne B Kaar, I'm an artist in Caithness.
Inspired by the landscape, and its rich heritage, I collaborated with Joanne Howdle when she was curator at Caithness Horizons, digitalising their now fragile Robert Dick Pressed Herbarium Collection.
Want to know more? Click here to read about Robert Dick in his biography by Samuel Smiles or why not plan a visit to take a closer look at the original Robert Dick collection!
---
We Want to Hear From You!
Share your stories of your community in the Highlands and Islands
Stories are at the heart of what we do as a project and we are always looking to learn more about what the Highlands and Islands means to people who live, work, and visit here.
The connections between a person and their community are vital to the very essence of a place. We would love to know, who in your community, past or present, do you feel represents the 'Spirit of the Highlands and Islands'? Tell us below, we can't wait to hear from you!
Click here to share your story through our online story portal