Tiny but Mighty: The Scottish Primrose
Image provided by NatureScot
I still have the old enthusiasm and wonder for nature, still have that keen spirit, a spirit that rangers share.
Endemic to the North Highlands is a mighty little flower - only found wild along the North Coast and on Orkney, in special places where few people see it. Even when you know it is there it can be difficult to find. Some folks come from afar to view it, to photograph them or even to paint pictures of them. They are so small but so perfect and unique to the Highlands – this is the Scottish primrose [Primula scotica]. As a Countryside Ranger with High Life Highland, it is one of my great pleasures and privileges to take people on guided walks around the northwest Highlands to introduce them to many of the beautiful places and to the sights, sounds and scents of our land.
One such was the aforesaid primula. I received a call one morning from an elderly gent `phoning from the south of England. He was inquiring whether I could tell him at what time of year the primula was in flower. He was planning a fiftieth anniversary surprise for his wife who was a keen botanist, she had always wanted to visit the North Highlands to see the flower in situ, to marvel at its minute size, its splendid colour, to sit amongst them, to be with them. With some trepidation I suggested the best dates – much dependent on the weather. I was under some pressure to get this right, but I knew the perfect spot, it was just to get the time right. I offered to guide them on their search when they arrived.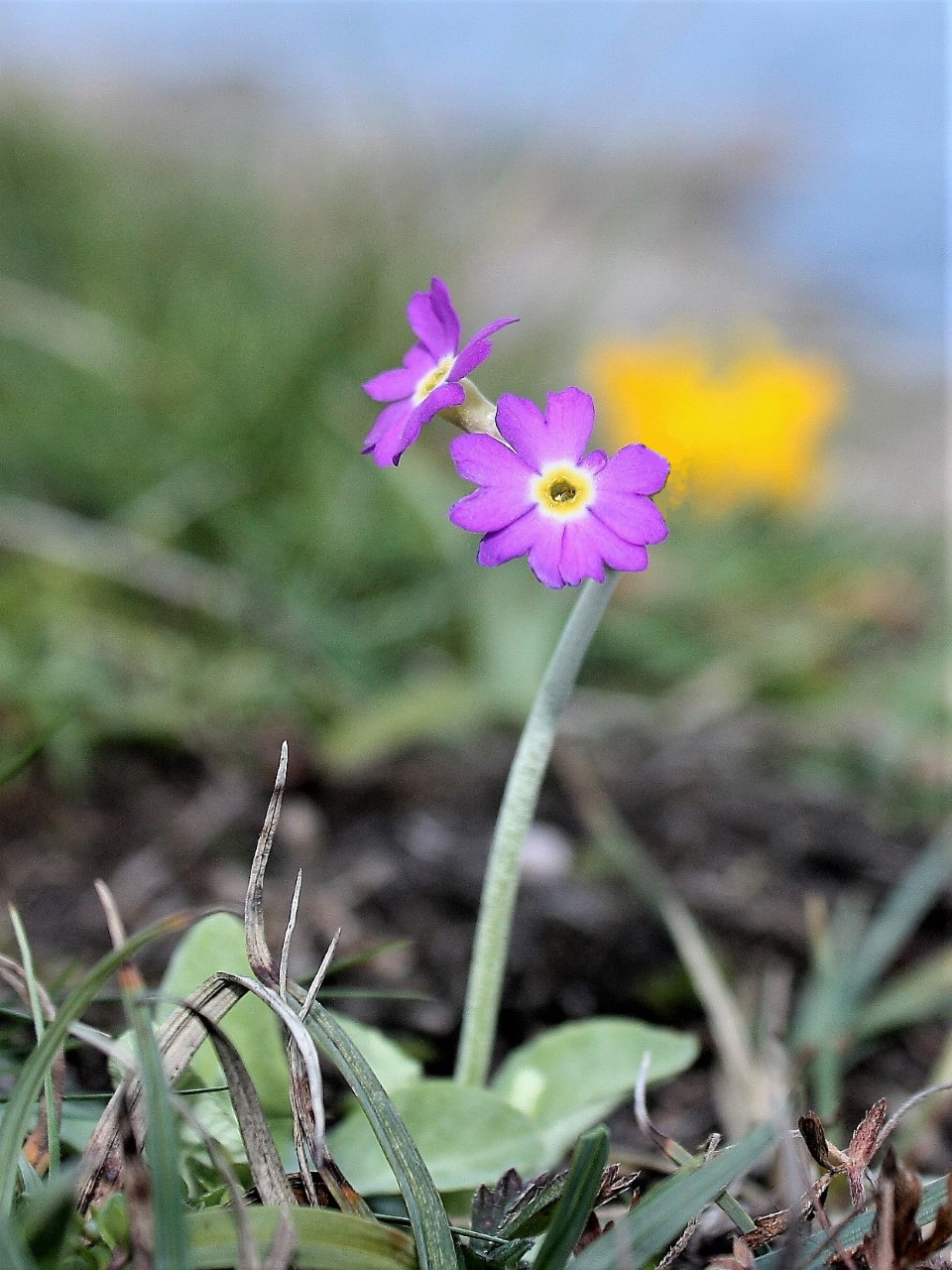 Image provided by Andy Summers
The Scottish Primrose (Primula scotica) in situ.
The day came, the couple duly arrived in Durness all the way from the far south, full of expectation and enthusiasm. The sun was shining, the machair blooming splendidly, I was optimistic as I led them out along the bay, a red throated diver flew out to sea calling high above us and fulmars cackled from the cliff. I was slightly nervous as we approached one of my favoured locations where I had previously found the flowers. Lo and behold! The darling little flowers were there right in front of us – and in bloom. The couple did not see them clearly at first, so we knelt for a closer inspection, they were enthralled, moved by the tiny marvels. I too was moved.
We sat for a while absorbing the scene, the peace, the tranquillity, the exquisite beauty of the bay. It was a perfect moment, with the cheerful colourful machair, the bright blue sea and the long stretching sands with the rising dunes behind. I took my leave of the happy couple; they were more than content to linger for longer in such a place. It had been an excellent morning, a very pleasing success. I had to go, I had another walk in the afternoon, there was a group wanting to see puffins. What a job! What a place! We parted in good spirits – the 'spirit' of the Highlands and Islands perhaps?
It is always satisfying to introduce people to new experiences or to introduce them to species of animals, birds or plants they have not previously seen, we Rangers take pleasure in their pleasure. Also, to take this further by explaining why this bird or plant is here, to speak a little on habitats, the environment, problems, solutions. The Scottish Highlands are undeniably beautiful and superbly varied, an ideal working environment for a Countryside Ranger. With High Life Highland, rangers encourage outdoor activities, health and wellbeing. We promote the Outdoor Access Code, stressing the need for responsible behaviour in the Scottish countryside as we love this land, and we want to look after it.
Images on rotation: Balnakeil Dunes; Borralie and the Kyle of Durness; Balnakeil Farm; Rainbow at Tràigh Allt Chàilgeag. Images provided by Donald Mitchell.
I have been rangering for many years now, so have several of my colleagues, it is more a way of life than a job. We work with people of all ages, cultures, abilities, we attempt to be inclusive and engaging. I have always enjoyed working with schools, particularly the primary schools as the children have an unbridled natural enthusiasm for animals and birds, flowers, frogs and wee creepy crawlies - it is infectious.
Recently we have been running a Highland-wide project on `Mammals of the Highlands` with the schools, which gives us great scope for projects, games, or simple research such as the use of field cameras for spotting wildlife and recording what is seen. I have a fairly good assemblage of animal skulls which I have collected over many years. Ones that I have come across on walks or sojourns across many parts of the Highlands, over hill and moorland or by rivers and coasts, just chanced upon. A fine recent find was a perfectly clean and complete fox skull lying amongst the bracken, just the head, a bit of a mystery. The collection has been invaluable for taking into the schools for the children to look at and handle and then creatively to sketch. Children (some of them) love searching through owl pellets for little animal skulls such as voles or mice. I have been surprised at how enthusiastic and how keenly they have pulled and poked and picked at the pellets, carefully and excitedly extracting the skulls and other bones with tweezers. If the bones are cleaned and dried, they can then be mounted on black card for a fine scientific display. Dissection of pellets is also a good method of discovering which small animals are present in the area you found the pellets.
High Life Highland Rangers are a diverse crew with a rich and varied knowledge on many subjects, collectively we must have a very impressive knowledge of Highland wildlife and the Highland environment - and the Highland people too. If we did not appreciate and like people we would not be in this line of work. We live and work in Highland communities and hence we are also part of them. Most areas of the Highlands are covered by the Ranger service, we lead walks - long ones, short ones, give talks, we can even be hired for a day. I still have the old enthusiasm and wonder for nature, still have that keen spirit, a spirit that rangers share.
Image provided by Donald Mitchell
Donald Mitchell - High Life Highland Countryside Ranger, North West Sutherland
Many thanks to Donald from everyone on the Spirit of the Highlands and Islands team for sharing this wonderful blog about his work as a HLH Countryside Ranger, the 'spirit' of the Ranger team, and his encounters with the remarkable Scottish Primrose.
Do you have a favourite story about the wildlife of your local area that you feel represents the Spirit of the Highlands and Islands? Why not share it with us on our Story Portal! To submit your story, click here.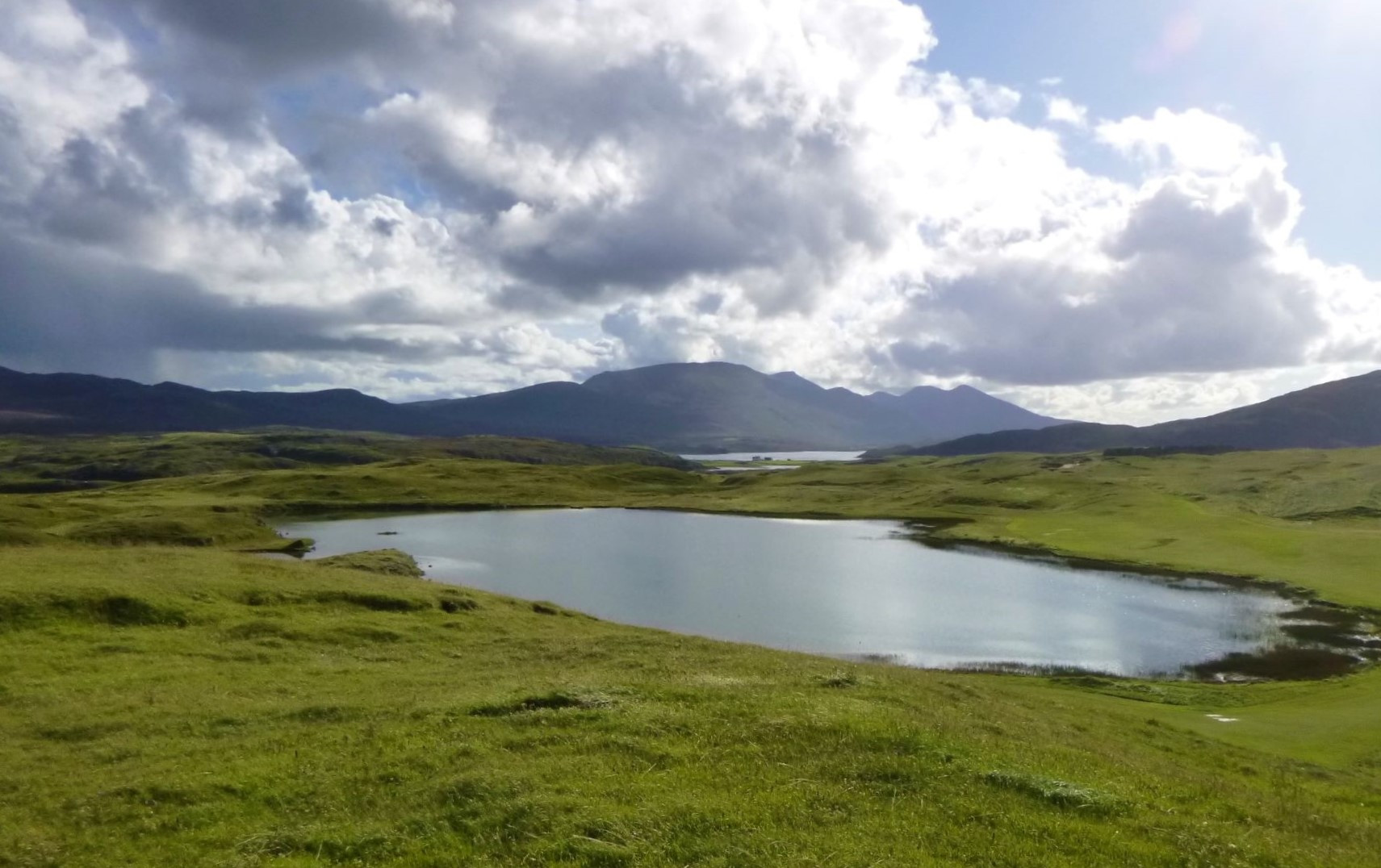 Image provided by Donald Mitchell
Overlooking Loch Lanlish, Durness.
Want to Learn More about the Countryside Rangers?
Keep up to date with the work of the Countryside Rangers on Facebook and with their online blog.
Interested in exploring your area with the Countryside Ranger service? Discover a range of upcoming events here.
Read more about the protection of the tiny but mighty Scottish Primrose with NatureScot here.