Highland Archive Centre (Credit: High Life Highland)
Preserving the Past, Celebrating the Present: The Highland Archive Service
When we reflect on the 'Spirit' of the Highlands and Islands, we often think about the diverse and rich cultural heritage which surrounds us. Our history is overflowing with stories: tales of love and loss, of battles lost and won and odes to the people who came before us. These stories connect us to our past and, ultimately, help shape who we are today.
The Highland Archive Service plays a vital role in the recording, preservation and conservation of Highland heritage and contemporary culture for future generations. In doing so, helping us grasp a better understanding of the past and ensure that our unique contemporary stories will never be forgotten. In this week's Spotlight, we have the pleasure to hear from Lorna Steele-McGinn, the Community Engagement Officer at the Highland Archive Centre, who shares with us an insight into the role of the service, including its key role in engaging the public with local history and supporting communities with events across the Highlands. Read on to find out more...
The Highland Archive Service is responsible for the protection, preservation and accessibility of archives and records relating to the Highlands – quite a brief when you consider that the Scottish Highlands cover an area roughly the size of Belgium!
To sufficiently meet these requirements the service has four archive centres situated in Inverness, Wick, Fort William and Portree: the Highland Archive Centre, Nucleus: The Nuclear & Caithness Archives, Lochaber Archive Centre, and Skye & Lochalsh Archive Centre. Each contain searchrooms with regular opening hours, where members of the public can access our collections for no charge, and strongrooms with miles of secure, temperature-controlled, humidity-controlled steel shelving to store our archives. In addition to the centres we also manage and develop Am Baile, a digital archive of Highland history and culture.
Image provided by Highland Archive Service

For those unfamiliar with the term, archives are original records of any age (hundreds of years old to one day old), in any format (parchment, paper, photograph, DVD…) which are deemed to be worthy of permanent preservation. Archives are irreplaceable and they document our past in a unique way.

The Highland Archive Service holds thousands of records from a wide variety of sources, dating from the 1200s to the present day. As a local government archive we are the designated repository for the records of The Highland Council and its predecessors. These fascinating records include school admission registers and log books, valuation rolls detailing owners and tenants of houses across the decades, burgh papers (dating from the 1400s onwards), and the poor law records of numerous Highland parishes.

In addition to local government records we are privileged to be the chosen archive service for many deposited collections (items which are deposited with us by organisations or individuals to ensure their safekeeping for future generations) and these include historic records of the Northern Constabulary and the Highland Health Board. We also hold the records of many Highland churches under Charge and Superintendence from the National Records of Scotland.

Among our deposited collections are family letters and photographs, estate records, business collections, club and society minutes and membership rolls, diaries, scrapbooks and over 10,000 maps. Some records are closed for a certain length of time due to data protection or depositor request, but staff will be able to advise when these conditions apply.

The records in our collections provide fascinating insights into the social history of the Highlands and can be used as a source for numerous areas of research including genealogy. With a dedicated Family Historian and a ScotlandsPeople hub based in Inverness, we are able to help people build their family tree and then search in the archives for additional information.

In addition to our regular opening hours we run an extensive and diverse engagement programme - something that was particularly noted when the Highland Archive Service was awarded the comparatively new 'Archives Accreditation' award in 2022. Staff across all four centres take part in our outreach programme and we are fortunate to have a dedicated Community Engagement Officer whose role focuses specifically on sharing our collections with a wide range of audiences – taking the stories and information in the collections out.

Our online classes, 'Family History for Beginners', 'Advanced Family History', and 'Archives for Beginners' have, since the outbreak of COVID-19, been run online allowing people to join from across the world. These classes not only showcase our collections but explain the way record series are created, highlight the pieces of legislation that have changed our history, and break down how to follow a story across different documents and different time periods.

At all four centres we give tours and host events, welcoming individuals and families to events such as the annual Doors Open Days. We're also always delighted to welcome groups - church guilds, young farmers clubs, mental health nursing staff, social clubs, shinty teams, and others. Wherever possible we will not only introduce them to the work of the service but also display material relevant to their area of interest. We host regular exhibitions of our collections where people can drop in to look at archives on a theme – from education records to the story of the Battle of the Braes, from the history of the Caledonian Canal to agriculture.

In addition to encouraging people to visit our centres (either to do research or to take part in an event) we go out and give talks, both online and to private groups. Our staff can often be found speaking at SWI groups or to local/family history societies as well as collaborating at events such as Highland games, county shows and heritage days.

Collaborations are often both satisfying and productive and we regularly work with colleagues across High Life Highland (HLH), sharing knowledge and skills. Our Skye & Lochalsh archive staff support Adult & Youth services in running youth clubs and leading history walks; in Caithness, collaborative events are often hosted between the Archive Service, the Outdoor Rangers and the HLH Libraries. Lochaber Archive Centre's attendance at School's Out activities led by the Active Schools team has been really beneficial for all involved and the Highland Archive Centre is currently working with HLH Adult Learning to record the stories of Syrian and Afghan people who have made the Highlands their home. Our relationship with the Highland Council (THC) means that we regularly work with pupils from the 200+ schools in the Highlands – welcoming them to our centres and going into schools to give talks and workshops.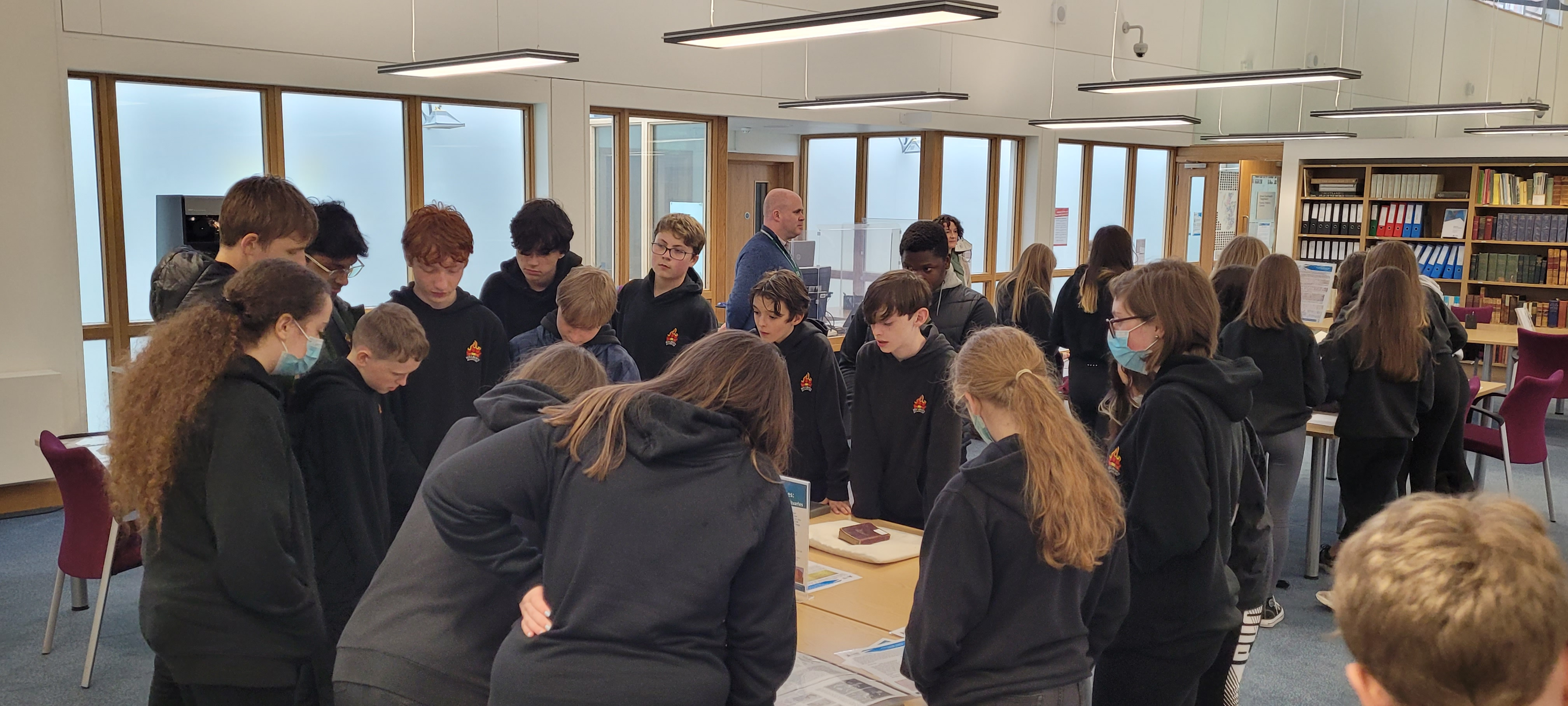 Image provided by Highland Archive Service

S2 pupils from Millburn Academy explore the history behind objects in the collections of the Highland Archive Centre

As well as our HLH/THC colleagues we regularly work in partnership with external organisations and individuals. Our partnership with Fife College sees us going in to HMP Inverness regularly to run workshops for prisoners – looking at subjects as diverse as WWI and WWII to the history of crime and punishment and the Highland connection to slavery. Collaboration with Eden Court Highlands is currently enabling us to start capturing the stories of the LGBTQ+ community in the Highlands through a series of events and oral history recordings. In Skye & Lochalsh strong relationships exist with the creative community where artists and musicians regularly use our collections for inspiration for pieces we then host, share and promote.

Highland Archive Service online engagement also continues to flourish. Our social media pages (Facebook, Twitter and Instagram) showcase items from our collections and play host to our popular 'Learn with Lorna' series of films which tells stories from the collections and have so far been viewed some 260,000 times. These can also be viewed on the High Life Highland YouTube channel. On our website we create blogs and online exhibitions about our collections and these are always popular both with locals and with those who can't come to view the original documents.

There are numerous ways to engage with our collections and we seek to use them in diverse and powerful ways – sharing with people not only the information they contain but also the stories and life experiences of people who have come into contact with the Highlands in the past. If you would like to work with us, visit us, or learn more about what we do please contact us on archives@highlifehighland.com and if you have documents you think could be added into our collections we would be delighted to hear from you.
HIGHLAND ARCHIVE SERVICE
Many thanks to Lorna Steele-McGinn, Community Engagement Officer at the Highland Archive Centre, and everyone on the Highland Archive Service team from all of us at the Spirit of the Highlands and Islands for sharing this fantastic blog about the remarkable work of the service within local communities across the Highlands.
Do you have a favourite story from the history of the Highlands and Islands? Or perhaps a memorable story about your community that you feel represents the 'Spirit of the Highlands and Islands'? Why not share it with us on our Story Portal! To submit your story, please click here.
Read More About the Highland Archive Service
Interested in the work of the Highland Archive Service and want to read more?
Learn about the legacy of the Education (Scotland) Act 1872 in the Highlands 150 years on with the latest online exhibition from the Highland Archive Service.
Explore Am Baile, a major learning and research source for for those interested in cultural heritage and the local history of the Highlands and Islands of Scotland.
Dive into the fascinating history of the Highlands through the collections of the Highland Archive Service with Learn with Lorna - a live series broadcast weekly on the Highland Archive Centre Facebook page and available to watch on demand on YouTube.
Discover the unique history of Caithness with the Stories from the Archive blog series by the team at the Nucleus: The Nuclear and Caithness Archives.
Keep Updated
Keep updated with future events and the work of the Highland Archive Service on their website and social media channels:
You can also find an account shared by the four archive centres on both Twitter and Instagram.