Beyond Extraordinary: Isobel Gunn
Our newest Spotlight from the series 'Behind the Story'. In this series we take a closer look at the fascinating history behind stories which have been shared with us on the Spirit: Stories archive. 
This week, inspired by the story 'John Login', submitted by Rosemary Anderson, join us as we take a moment to explore the story of fellow Orcadian STEM pioneer – 'Orkneyman' Isobel Gunn. 
It is often the most interesting of stories that are the ones shrouded in mystery, drama, and uncertainty. This is certainly the case of Orcadian Isobel Gunn, for whom we cannot even be sure of her real name. 
However, from what has been pieced together of her life from the historical record, the story of Isobel Gunn is beyond extraordinary. 
Early Life
Like many aspects of her early life, Isobel Gunn's date of birth is uncertain. Reported either as 1st August 1780 or the 1st August 1781, Isobel is believed to have been born under the name Mary Fubbister, the daughter of John Fubbister and Girzal Allan (Towrie undated; Muir undated) . Varying between sources, her place of birth is recorded as either the parish of St. Andrew's, Tankerness or Orphir, Mainland Orkney (Snodgrass 2019; Towrie undated; Muir undated).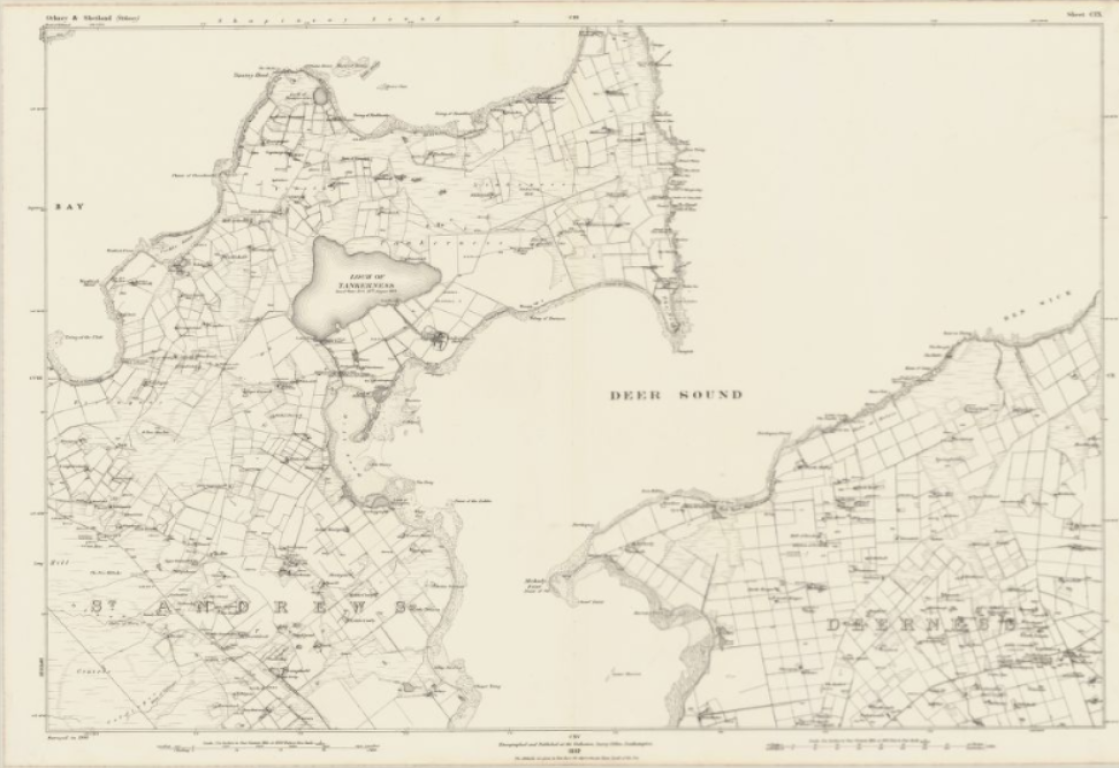 Image provided by National Library of Scotland
Map of St Andrew's and Deerness Parishes, 1822, one such parish suspected of being Isobel Gunn's birthplace.
Unfortunately, records are scarce, and this is all that is known about Isobel's early years. The adventure that is to follow, however, has cemented her place in history. 
The Hudson's Bay Company 
In the 18th and 19th centuries, the fastly-growing harbour town of Stromness had set its place at the heart of the Atlantic maritime industry (Wilson 2013). Ships arriving on this stretch of Orcadian shores brought sailors, merchants, and seafarers from all over the world – the town bustling with new minds and fresh tales from across the seas.  
The ships of the Hudson's Bay Company, a London-based fur-trading company, were a frequent sight at Stromness harbour, making annual drives for new recruits on shore starting in 1702. Made popular by promise of adventure, higher wages, and escape from poverty, by the late 18th century three quarters of company employees came from Orkney (Am Baile undated; Dixon undated). Setting sail, these ships would take new and returning Orkneymen to Arctic Canada transporting cargo for distribution to various fur-trading posts in the region.  
In the summer of 1806, at the age of 25 or 26, Isobel made the decision to leave her life in Orkney behind. Dressing up as a man, she signed a three year contract as a labourer for Hudson's Bay Company under the alias John Fubbister (Snodgrass 2019; Campsie 2019). We will never know the reasons that drew her to the decision, whether for adventure, in search of family, love, or better financial prospects, but what is certain is that this was only the beginning of her fascinating story.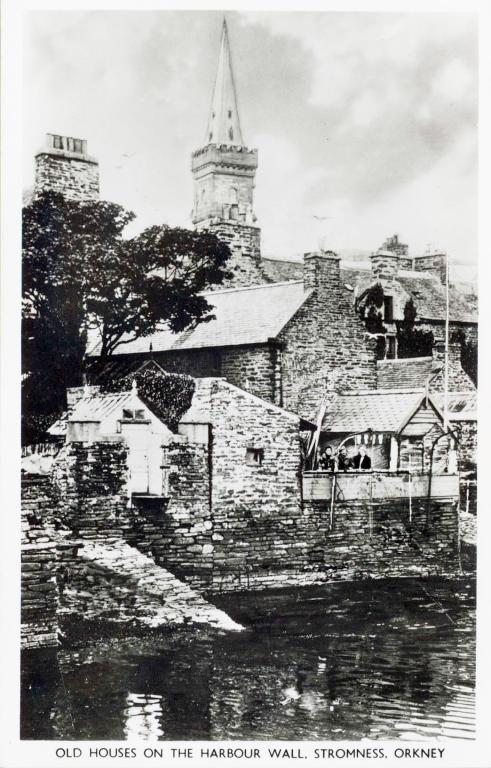 Image provided by Am Baile/Highland Libraries
Postcard with a view onto houses on the harbour wall, Stromness, Orkney Isles.
Life Across the Atlantic 
Isobel, now known as John Fubbister, departed Stromness Harbour on the merchant ship the Prince of Wales on the 29th June 1806. In August of that year, the Prince of Wales reached its destination of Moose Factory at Port Albany, Ontario (Snodgrass 2019; MacPherson 2018).
From the start of her journey, Isobel was defying the standards imposed on women of the 18th century. At £8 per annum, Isobel's contractual earnings and prospects were already greater than the majority her fellow Orkneymen back home on the Isles and far more than was thought possible for a woman from rural Orkney of her time. Within months of arrival, Isobel fast gained a reputation as an effective, brave and hardworking labourer even earning a raise with a merit for completing her responsibilities well (Van Kirk 1983; Muir undated; Towrie undated).
In the Autumn of 1807, Isobel was assigned to an expedition party tasked with distributing stock to outposts further afield. Starting from Partridge House, Ontario, Isobel and the party travelled south first to Marten Falls, Northern Ontario, together then making the long journey down to the Hudson's Bay Company fur-trading outpost at Red River, Pembina, in modern-day North Dakota. The journey amounted to over 1,800 miles, for which Isobel also took up post as canoeist and cook. 
Amazingly, throughout these travels Isobel was successfully able to keep up her guise as John Fubbister, completely unsuspected by her employers and peers. Unfortunately, this was soon to change in the winter of 1807.  
Discovery 
On the morning of the 29th December 1807, an indisposed Isobel was lodging at the house of the chief official at the rival North West Company's Pembina outpost, Alexander Henry the Younger. In clear pain and distress, she requested to speak to Mr Henry (Ross 2016; Muir undated; Towrie undated). He wrote in his journal: 
"I returned to my room, where I had not been long before he sent one of my own people, requesting the favour of speaking with me. Accordingly, I stepped down to him, and was much surprised to find him extended out upon the hearth, uttering most dreadful lamentations; he stretched out his hands towards me, and in a piteful tone begg'd my assistance, and requested I would take pity upon a helpless, abandoned wretch, who was not of the sex I had every reason to suppose, but an unfortunate Orkney girl, pregnant and actually in childbirth..." 

- Extract from 'The Journal of Alexander Henry the Younger, 1799-1814 (Champlain Society 2013)
When Isobel's identity was finally discovered, she was in active labour. Her son James was born about an hour later. 
The father was referred to by Isobel as a John Scarth, a fellow Orkneyman (Snodgrass 2019). John Scarth was also in the employ of the Hudson's Bay Company stationed at that time in Grand Forks, North Dakota but had previously worked closely with Isobel. Scarth had discovered her identity by accident when they where lodging together but agreed not to report Isobel to the master of Brandon House, a Mr Goodwin (Towrie undated). From reports of Isobel's accounts, the pregnancy was the result of rape (Towrie undated; Muir undated).
Return to Orkney 
Following the discovery of her true identity, Isobel, now using the surname Gunn, was no longer allowed to remain at the Pembina post and work amongst with male peers. She was reposted to work as a laundress for the Hudson's Bay Company in Albany in early 1808.
This posting, however, was not to last and against her wishes Isobel and her son James departed Canada for the Orkney Isles on the 20th September 1809 on the ship the Prince of Wales  – the very same ship Isobel had begun her journey in the summer of 1806 (Snodgrass 2019; Van Kirk 1983).
Rejected by her family for having a child out of wedlock, Isobel returned to Stromness, where she found work as a seamstress. She lived there with James the remainder of her life (Ross 2016; Van Kirk 1983).
Isobel Gunn died in poverty on the 7th November 1861, at the age of 81, and was buried in a pauper's grave. 
Legacy 
While this tale ends in tragedy, the story of Isobel Gunn has inspired countless people over the years. The tale of the Orkney woman, who for years and against all odds defied expectations, is one that has stood the test of time. While we know little about her life outside of her time working for the Hudson's Bay Company, one thing is for certain – her story will never be forgotten.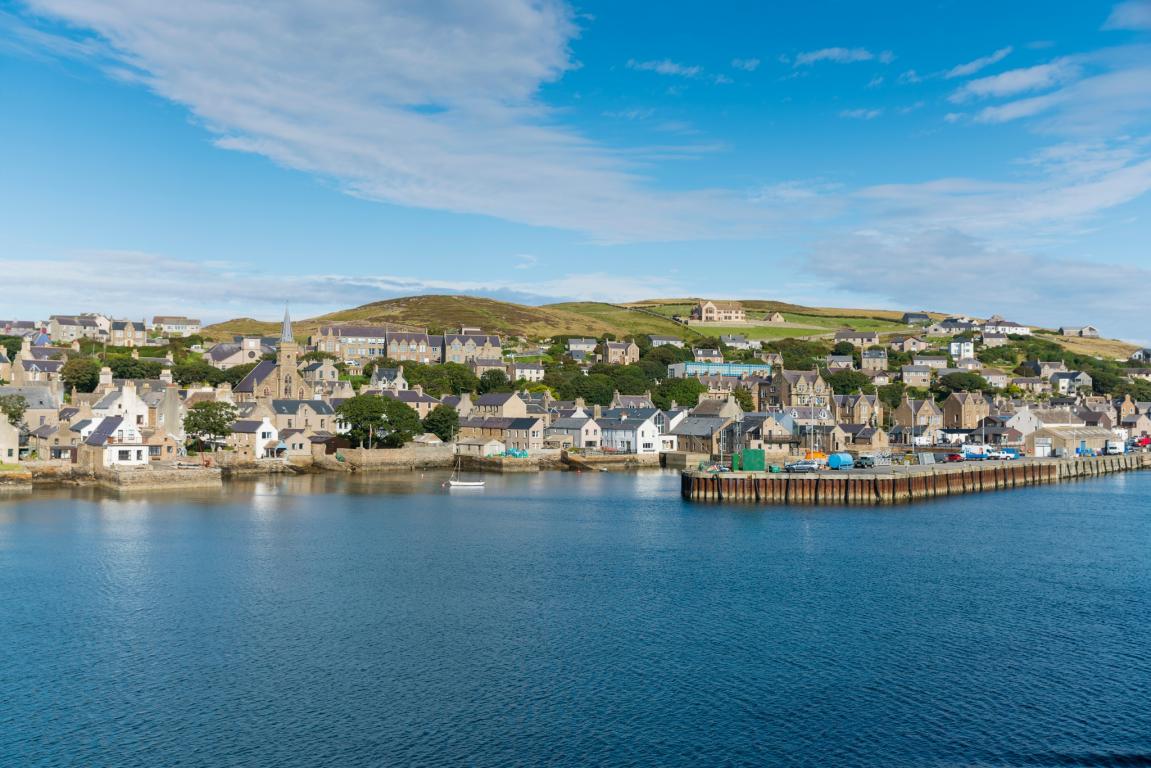 Image provided by VisitScotland/Kenny Lam
The harbour town of Stromness today.
Further Reading
Interested in the story of Isobel Gunn and want to learn more? Please check out:
Articles on the life of Isobel Gunn on Orkneyjar and Orkneyology.

The poetry series Alias Isobel: An Orkney Narrative by Morag MacInnes.

The poem The Ballad of Isabel Gunn, Stephen Scobie.

Documentary film An Orkney Lad: The Story of Isabel Gunn (2001)
References
Am Baile. Undated. Stromness Orkney (Asset ID 37449). [Online]. [Accessed 19 August 2022]. Available from: https://www.ambaile.org.uk/search/?searchQuery=37449
Campsie, A. 2019. The Orkney woman who disguised herself as a man to work and travel. The Scotsman. [Online]. 7 November 2019. [Accessed 19 August 2022]. Available from: https://www.scotsman.com/heritage-and-retro/heritage/orkney-woman-who-disguised-herself-man-work-and-travel-1402994
Champlain Society. 2013. The Journal of Alexander Henry the Younger, 1799-1814 (volume I). [Online]. [Accessed 19 August 2022]. Available from: https://champlainsociety.utpjournals.press/doi/book/10.3138/9781442618077.
Dixon, M. Undated. A Brief History of Stromness. [Online]. NorthLink Ferries. [Accessed 19 August 2022]. Available from: https://www.northlinkferries.co.uk/orkney-blog/a-brief-history-of-stromness/.
MacPherson, H. 2018. The Scots adventurer who lived as a man - until she gave birth to a son. The National. [Online]. 4 November 2018. [Accessed 19 August 2022]. Available from: https://www.thenational.scot/news/17199844.scots-adventurer-lived-man---gave-birth-son/
Muir, T. Undated. The Unknown Isabel Gunn. [Online]. Orkneyology. [Accessed 19 August 2022]. Available from: https://www.orkneyology.com/isobel-gunn.html
Ordnance Survey. 1822. Orkney Sheet CIX – St. Andrew's and Deerness Parishes. 1:10560. [Online]. [Accessed 19 August 2022]. Available from: https://maps.nls.uk/view/228779347 
Ross, A. 2016. The Teen Who Trekked 1,800 Miles Through the Canadian Wilderness Disguised as a Man. Atlas Obscura. [Online]. 27 January 2016. [Accessed 19 August 2022]. Available from: https://www.atlasobscura.com/articles/isobel-gunn-female-fur-trapper
Snodgrass, M. E. 2019. Women's Art of the British Empire. [Online]. United States: Rowman & Littlefield.
Towrie, S. Undated. Isabel Gunn. [Online]. Orkneyjar. [Accessed 19 August 2022]. Available from: http://www.orkneyjar.com/history/historicalfigures/isobelgunn.htm
Wilson, B. 2013. Stromness: A History. Kirkwall: Orcadian Ltd. 
Van Kirk, S. 1983. Gunn, Isabel. In: The Dictionary of Canadian Biography, vol. 5, University of Toronto/Université Laval, 2003. [Online]. [Accessed 19 August 2022]. Available from: http://www.biographi.ca/en/bio/gunn_isabel_5E.html