Mairi - the First Silent Movie Made in the Highlands
by Adrian Harvey
---
One of Scotland's earliest narrative silent films was made in Inverness by local award-winning portrait photographer, Andrew Paterson. In 1912, he made what is almost certainly the first silent movie to be made in the Scottish Highlands.
Paterson owned a holiday cottage in North Kessock, and knowing the area well, he chose locations that were close by in order to facilitate transport of the camera, equipment, and cast.
Paterson was involved with amateur theatricals in Inverness and sourced his cast of eight from local actor friends. He himself directed and photographed the film. Titled 'Mairi: The Romance of a Highland Maiden', the film is the dramatised account of a young girl in love with a Revenue Officer who is caught up in a fight to catch smugglers. At one point there is a scene where actors Tom Snowie and Donald Dallas are fighting on a cliff top, before Snowie is exchanged for a dummy and thrown over the edge. It is a brilliant example of early special effects and the film stands in comparison with most of the professionally made films of that time. A considerable achievement for a photographer and cast without any previous film-making experience.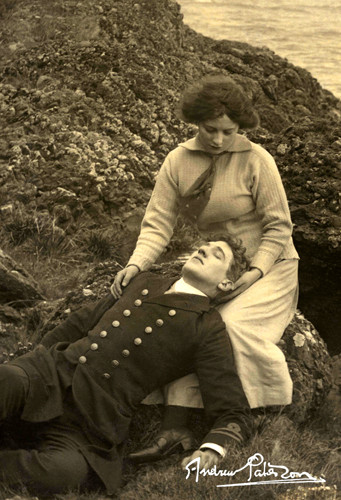 Image provided by Andrew Paterson Collection/ Andrew Harvey
Still from the silent movie Mairi, in the Andrew Paterson collection
Mairi premiered to the public in the Central Hall Picture House in June 1913 with continuous performances from 2.30pm to 11.00pm. One reviewer wrote: 'The drama was acted on the spot by a company of amateur actors, who admirably filled their roles. We understand that the film has been acquired by Gaumont, London, who supply pictures for exhibition in all parts of the world.'
The 20-year-old leading man Tom Snowie was a cabinet maker by trade who died in 1972. Mairi was portrayed by 20-year-old Evelyn Duguid. She was also well-known in local theatrical circles, especially as a singer. In 1920, she married a Canadian and moved with him to Canada where she is remembered there as "the spirit and life of the Celtic Society". She died in 1961.
Andrew Paterson made a brief foray into making documentaries, but stopped making films because he insisted that portrait photography for him was much more important.
Want to find out more? Visit the Scottish Highlander Photo Archive.
---
We Want to Hear From You!
Share your stories of your community in the Highlands and Islands
Stories are at the heart of what we do as a project and we are always looking to learn more about what the Highlands and Islands means to people who live, work, and visit here.
Creative industries, including photography, film and TV production, have a rich industry in the Highlands and Islands. Inspired by this story we would love to know, is there a photography collection or film that you associate with the 'Spirit of the Highlands and Islands'? Tell us below, we can't wait to hear from you!
Click here to share your story through our online story portal